Home
Politics
Danielle Smith discussed COVID charges 'almost weekly' with justice officials, according to leaked call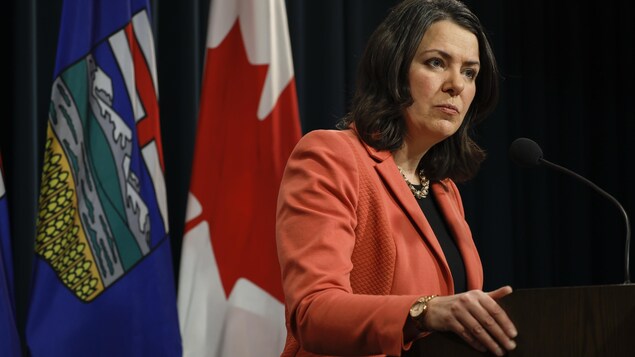 Smith said last month she explained to pastor Artur Pawlowski she could not grant amnesty
Alberta Premier Danielle Smith spoke to a pastor just weeks before his criminal trial on pandemic-related charges, promising she would again discuss his case with justice officials, beyond the earlier pleas she had already made on COVID-related prosecutions.
The phone conversation between Smith and Artur Pawlowski, a controversial Calgary street pastor, happened in early January, just weeks before his trial in Lethbridge on Feb. 2.
Pawlowski faces charges of criminal mischief and an offence under Alberta's Critical Infrastructure Defence Act related to last year's Coutts, Alta., border blockade. A judge is set to deliver a verdict in early May.
CBC News has obtained a full copy of the recorded conversation and has verified it.
'Almost weekly' communication with justice officials
The call reveals that her conversations with top Alberta Justice officials about pandemic-related prosecutions were more frequent and specific than she has admitted publicly.
In the recording, Smith divulged she had already been having almost weekly communication with justice department officials, but said rules confine her to only questioning two things: the reasonable likelihood the pandemic-related prosecutions would result in convictions and whether proceeding would be in the public interest.
The government had previously said the premier asked for and received briefings from the justice minister to get up to speed on files after taking office. 
'Leave this with me'
In the recording, Smith assured Pawlowski she would continue to push his case internally. 
Can you just leave this with me and I will make that request one more time?
I'm very sympathetic, she added on the recording. It was a political decision that initiated this but it can't be a political decision to end it. That's what I'm finding very frustrating. 
During the conversation with Pawlowski, Smith says she spoke to the deputy minister of justice and let him know my dissatisfaction with the tactics the Crown prosecutors were using to pursue COVID-related charges. Specifically, she mentioned she'd protested the size and timing of prosecutors' document disclosures.
The premier has said Justice Minister Tyler Shandro advised her she couldn't grant the amnesty she had previously promised to seek for those prosecuted under pandemic rules, and had no sway over charges or the path of prosecutions.
It's unfortunate that I didn't understand the limitations, she said in the phone call. I thought we had the same power of clemency we had in the U.S.   
Contact with ministry 'appropriate': Smith
She has said that legal advice (new window) came shortly after she became premier, months before the Pawlowski call.
Smith has continuously denied that she or her office engaged in any inappropriate conduct regarding COVID prosecutions.
As I have previously stated, I had my staff work with the Ministry of Justice, to determine if anything could be done to grant amnesty for those charged with non-violent, non-firearms COVID-related charges, Smith said in Wednesday a tweet that referred to CBC News' reporting.
As also indicated previously in multiple interviews, I received a legal brief from the Ministry of Justice recommending against pursuing amnesty further as several matters involving this issue were and still are before the courts. I have followed that advice.
Pawlowski declined comment through his lawyer.
When asked if the recorded conversation would affect Pawlowski's criminal case, defence lawyer Sarah Miller said her client had no comment.
CBC News obtained the call recording independently of the Alberta NDP. At a news conference Wednesday, the NDP played the entire video of Pawlowski taking the premier's call at a private residence.
Irfan Sabir, the NDP's justice critic, reiterated his party's demands for an independent investigation into allegations of judicial interference by Smith and her staff. He said there are many troubling aspects of the phone call, from her almost weekly discussions of the case with Alberta Justice to her speaking with Pawlowski at all.
It is deeply inappropriate for the premier to be having this conversation with someone facing criminal charges, Sabir said. That she greets him with such admiration says a lot about who Danielle Smith is.
11-minute conversation
The premier said multiple times over the course of the 11-minute call she would make a further attempt to see what could be done about Pawlowski's situation, promising to follow up the next week — after her top aide returned from vacation. 
Smith repeatedly mentioned that Rob Anderson, the executive director of the premier's office, was her main official active on these prosecution files.
Rob Anderson has been doing most of my work with justice in pushing this along, she said. 
In a statement, Anderson described CBC's pursuit of what he termed defamatory attacks as disgusting. 
My role on the file was to ask for a legal opinion from the Ministry of Justice on what options were available to grant amnesty for those facing non-violent, non-firearms related COVID charges, Anderson wrote in a statement Wednesday. I obtained that legal opinion from the Ministry of Justice and provided it to the Premier as requested.
CBC News has previously reported that sources had said the premier and her office were constantly pushing justice department officials to intervene in COVID-related court cases, amounting to inappropriate pressure. 
Sources also said a premier's office staff member had contacted Crown prosecutors to challenge their assessment of and direction on cases stemming from the Coutts border blockades and protests. CBC News has not seen the emails in question. 
Smith has called for CBC to apologize and retract the story about the emails.
'Sorry to hear what they're putting you through'
Pawlowski has been making extensive public appeals on social media for Smith to intervene in his case, and has said he was working through political backchannels, trying to talk to the UCP government to call their dogs off. Smith says on the call she believed it was her first time speaking with Pawlowski.
I had hoped that some of these [cases] would have been vacated by now and I'm sorry to hear what they're putting you through, she told Pawlowski.
The host and apparent arranger of this phone call is Dennis Modry, a prominent critic of COVID measures himself, (new window) and now-former head of the separatist group known as the Alberta Prosperity Project (new window). He had mused recently about running (new window) as a UCP candidate in Edmonton, but did not wind up doing so.
On this call, Smith was actually conversing with the leader of a rival conservative party. Last fall, Pawlowski was chosen as head of the Independence Party of Alberta — although the party announced late Tuesday they removed him (new window) as leader.
I don't think I have an option except to start swinging your way because of the promises that were never fulfilled, Pawlowski told Smith in the January phone conversation.
Smith mindful of SNC-Lavalin scandal
During the call, Smith said she's mindful of potential parallels to Prime Minister Justin Trudeau's 2018 SNC-Lavalin scandal as she addresses Alberta prosecutions.
That's how the prime minister got himself in such hot water, because he was in a position where he asked the same questions that I did, Smith said.
The federal ethics commissioner determined Trudeau had directly and through his senior officials used various means to exert influence on Jody Wilson-Raybould, his justice minister, to resolve the corruption and fraud case against Quebec-based infrastructure giant SNC-Lavalin Group Inc. Wilson-Raybould termed it a consistent and sustained effort by many people within the government to seek to politically interfere in the exercise of prosecutorial discretion.
Wilson-Raybould and a top Trudeau aide are among the many senior officials who resigned in that saga of inappropriate political meddling in prosecutions.
We have these conventions in our system, Smith concluded to Pawlowski. So I am trying to stay within the lines and asking them the appropriate questions.
"The CBC's continued pursuit of its defamatory attacks on the Premier and her Office staff in this matter is absolutely disgusting. My role on the file was to ask for a legal opinion from the Ministry of Justice on what options were available to grant amnesty for those facing non-violent, non-firearms related COVID charges. I obtained that legal opinion from the Ministry of Justice and provided it to the Premier as requested.
At no time have I contacted the Crown Prosecution Service regarding this or any other related matter, and to my knowledge, I do not recall speaking with anyone charged with ongoing COVID related offenses. The CBC's, and any other party's, direct or insinuated allegations to the contrary are defamatory and will be treated accordingly.
Elise von Scheel (new window), Meghan Grant (new window), Jason Markusoff (new window) · CBC News