Home
Health
B.C. to limit sales of diabetes drug Ozempic to non-Canadians as demand soars amid weight-loss claims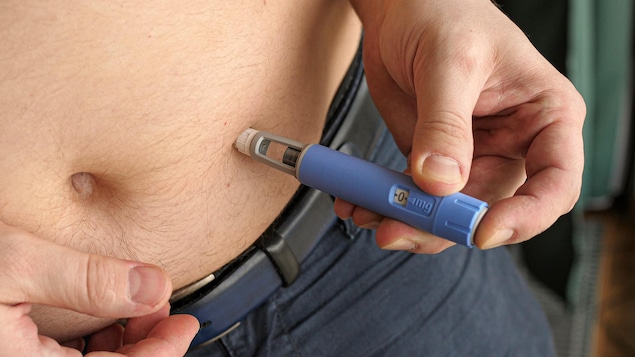 Province says 15% of Ozempic sales in B.C. went to American residents in first months of the year
The province of British Columbia says it's planning to restrict how much Ozempic can be sold to non-Canadian citizens as American demand for the diabetes drug surges, driven by celebrities and online influencers claiming it can help with weight loss.
Health Minister Adrian Dix on Tuesday said a provincial analysis found 15 per cent of Ozempic sales in the first two months of the year went to U.S. residents — a worryingly high rate, he said, considering the average for other drugs sold to Americans was less than half a per cent.
This is concerning and, in my view, it has to stop ... the purpose of protecting Ozempic access in British Columbia is not to turn around and export it back to the United States, Dix said during a news conference.
It is necessary to take some action to ensure that patients in British Columbia get access and continue to have access to Ozempic.
Ozempic is largely intended for people who have Type 2 diabetes. Dix said the dramatic increase in demand for the drug was partly due to several celebrities in the United States having promoted the drug, even though it's not approved for weight loss (new window).
Dix said B.C. isn't currently experiencing a shortage, but restrictions are being created to prevent that scenario.
We don't have enough Ozempic in British Columbia to satisfy the American market, so there is that concern, he said.
The data showed two pharmacies accounted for 88 per cent of B.C.'s Ozempic sales to American residents. Dix said both businesses were in Metro Vancouver, but did not name them.
Ninety-five per cent of prescriptions to those pharmacies were written in Nova Scotia, data showed, prompting Dix to call on that province's professional college to investigate why its practitioners are writing so many prescriptions.
He stopped short of calling for an investigation into the pharmacies in B.C., but said he would be interested in any review of the [pharmacies] in question.
WATCH | Doctor says Ozempic isn't a solution for most people trying to lose weight:
B.C. doctor says trendy diabetes medication isn't a solution for most people trying to lose weight
Dr. Melissa Lem weighs in on the controversial use of Ozempic for weight loss.
Dix asked PharmaCare, the publicly funded program that helps B.C. residents pay for some prescription drugs, to review the drug's use by U.S. residents in January.
That month, the minister said PharmaCare coverage of Ozempic would be widened to more patients with Type 2 diabetes, although it wouldn't be part of regular benefit coverage.
Demand across the country has risen steadily over the last year, according to the Neighbourhood Pharmacy Association of Canada, which represents most of the major pharmacy chains as well as many community drugstores.
Ozempic costs between $200 and $300 per month in Canada.
People who need the drug for diabetes or other health conditions likely need it for life, with studies showing weight often comes back after patients stop taking their dose.
Ozempic's manufacturer, Novo Nordisk, also got Health Canada approval in 2021 for a drug called Wegovy. Ozempic and Wegovy have the identical active ingredient — semaglutide — but Wegovy is a higher dose to specifically treat obesity.
Health Canada has also approved Wegovy for people who are overweight and also suffering from a serious weight-related condition such as hypertension, diabetes or obstructive sleep apnea.
Semaglutide works by acting like a hormone called glucagon-like peptide-1 (GLP-1), which promotes insulin production and also stimulates part of the brain that controls appetite.
Patients take it by injection once a week.
WATCH | TikTok's fixation with Ozempic and the diet culture lifestyle:
Ozempic: TikTok's fixation and the diet culture cycle
Ozempic, a drug used to help treat Type 2 diabetes, has soared in popularity thanks to a side-effect — appetite suppression. Andrew Chang explores how celebrity weight loss, diet culture and social media have further fueled the demand.
CBC News with files from The Canadian Press