Home
International
Joe Biden addresses Parliament during first visit to Canada as U.S. president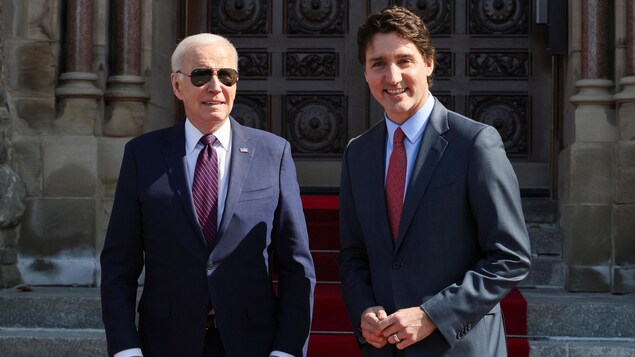 Biden is travelling with a high-powered entourage of officials and advisers
U.S. President Joe Biden is on Parliament Hill today as part of his official visit to Canada — a whirlwind trip that includes a meeting with Prime Minister Justin Trudeau, an address to Parliament and a gala dinner at the city's Aviation Museum.
Around 11:45 a.m., Biden was escorted by Trudeau into the West Block where he briefly greeted dignitaries, including Conservative Leader Pierre Poilievre, other party leaders, senators, the House of Commons Speaker and parliamentary clerks.
Poilievre introduced himself as the leader of his His Majesty's Loyal Opposition, which prompted Biden to quip, Loyal, huh?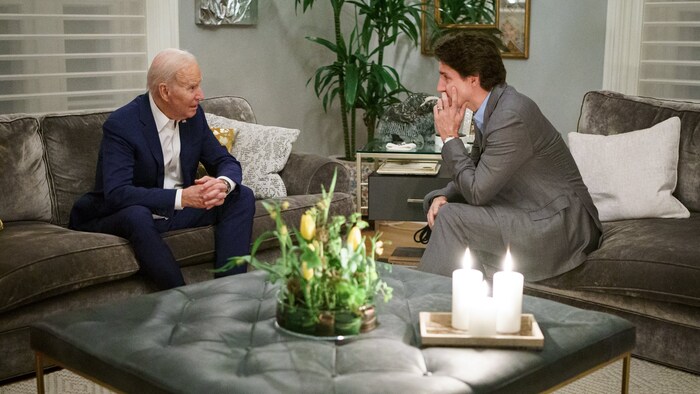 Green Party Leader Elizabeth May then handed a bemused Biden a chocolate bar made by a Syrian refugee before he was whisked away for a one-on-one meeting with Trudeau.
It's been too long between meetings. I think it was 2016 I was here, Biden said as he sat down to talk with Trudeau.
"I tell other world leaders I meet with — we're lucky we have Canada to our north. All our values are the same. We agree and disagree on things occasionally but there's no fundamental difference in the democratic values we share and it really makes a big difference.
It's an honour to be here and there's a lot to talk about and I think we'll get a lot done today.
The busy day follows an intimate gathering last night at Trudeau's Ottawa home, Rideau Cottage. Trudeau, with his wife Sophie and their three kids, hosted the president and his wife, Jill.
This is the first non-summit overnight visit by a U.S. president in nearly two decades. It's a chance for Biden and Trudeau to continue their efforts to renew the bilateral relationship, which was marked by some tension in recent years.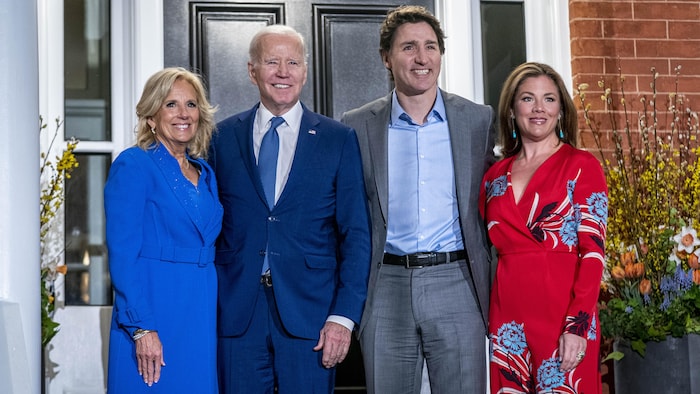 The Trump years were a trying time for Canadian officials. But Biden's decision to cancel the Keystone XL pipeline, promote protectionist policies like Buy American and withhold some vaccine supplies were also irritants in the early days of his presidency.
Since then, there's been meaningful progress on key files: a deal to protect the NEXUS trusted traveller program (new window) and a plan to include Canadian-made vehicles in a U.S. electric vehicle tax credit (new window) program.
---
U.S. President Joe Biden's schedule for Friday
11:20 a.m.: Meeting with Prime Minister Justin Trudeau
11:45 a.m.: Trudeau and Biden participate in expanded bilateral meeting
2:00 p.m.: Biden addresses Parliament
3:45 p.m.: Biden and Trudeau speak to the press
6:30 p.m.: Biden, Trudeau and dignitaries attend a gala dinner at Ottawa's Aviation Museum
Watch and listen to U.S. President Joe Biden's first official visit to Canada on CBC News: Special live coverage starts Friday at 1 p.m. ET on CBC TV, CBC News Network, CBC Gem (new window), the CBC News App and YouTube (new window), and at 1:30 p.m. ET on CBC Radio (new window) and the CBC Listen app.
---
And according to sources who spoke to Radio-Canada/CBC News on the condition of anonymity, there is a deal in hand that will allow Canada to close the Roxham Road site, where tens of thousands of refugee claimants have crossed the border irregularly in recent years — a political headache for Trudeau.
Diplomats on both sides of the border are hoping more deals will be announced during the visit.
Biden's entourage may suggest some details of what's to come.
Accompanying the president are: Jennifer Granholm, the energy secretary; Biden's national security adviser Jake Sullivan; Liz Sherwood-Randall, the homeland security adviser; and Secretary of State Antony Blinken, the top U.S. diplomat.
That list suggests there could be action on natural resources, the border and foreign threats.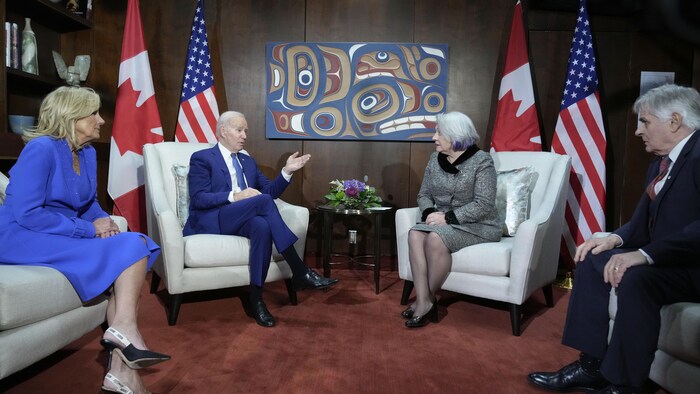 U.S. Ambassador to Canada David Cohen has said he wants Trudeau and his cabinet to spend more on defence. The United States also want a deeper commitment from Canada to continental air defence through NORAD.
The U.S. is also eager to see Canada take a leadership role in efforts to restore order in Haiti, which has descended into chaos in recent months as gangs have tightened their grip on some parts of the Caribbean country. So far, Canada has resisted deploying troops (new window).
Canada, in turn, wants to seal the deal on Roxham Road and secure some sort of fix to the Safe Third Country Agreement, which has allowed migrants to cross at irregular sites to claim asylum.
An extension of the agreement to cover the whole Canada-U.S. border could discourage that sort of activity.
WATCH | U.S. and Canada reach deal on closing Roxham Road border crossing: 
Biden arrives in Ottawa as Roxham Road deal reached
Joe Biden arrived in Ottawa on Thursday for his first official visit to Canada as U.S. president, and already, sources say the two countries have reached an agreement to allow for the Roxham Road border crossing to close.
Sources say that's what Trudeau and Biden are expected to announce (new window) at their press conference later today.
Canada also has the economy on its mind.
Biden's Inflation Reduction Act — which was really a climate-change bill, despite its name — includes major tax breaks for companies that pursue green-friendly projects.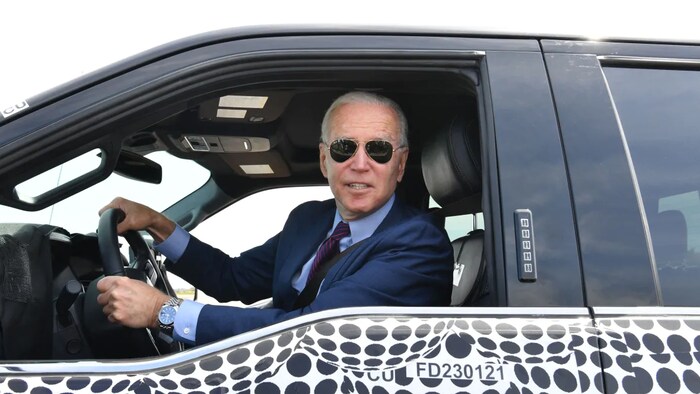 Canada is racing to compete — and there may be a role for Canadian businesses to play as the U.S. retools its economy to make it cleaner and greener.
The countries will use the visit to identify concrete ways to make each other strong, more resilient, more prosperous, more environmentally conscious, safer, secure and equitable societies, said Kirsten Hillman, Canada's ambassador to the U.S.
In an interview with CBC's Power & Politics, Hillman said the two countries have taken stock and they want to set the bar really high for how we're going to be working to mutually support each other.
The Biden trip comes just after Chinese President Xi Jinping visited with another authoritarian leader in Moscow — Russian President Vladimir Putin.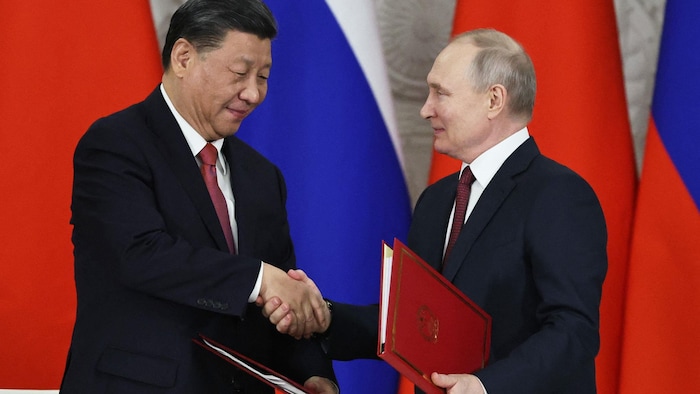 That symbolism is not lost on Bruce Heyman, the former U.S. ambassador to Canada.
While China cozies up to Russia, he said, Biden is here in Ottawa to bolster relations with its best friend and closest ally, a democratic Canada.
The differences and the contrasts are stark. There is a very strong message that is being sent as a result, Heyman said in an interview.
Undoubtedly, China's increasing belligerence and Russia's war crimes will be topics of conversation when Trudeau and Biden sit down Friday, Heyman said.
Canada and the U.S. will want to draw even closer together as the world becomes increasingly uncertain, he said.
One area of potential cooperation is the U.S.-supported development of Canada's critical minerals sector — an industry that currently is dominated by China, an unreliable business partner, Heyman said.
There's another thing Biden will have to consider while in Ottawa: what to have for dinner.
The National Arts Centre catering team, led by chef Kenton Leier, has prepared braised Alberta beef short rib and east coast Yellowfin tuna for diners at tonight's gala.
Dessert will be a wild blueberry and Quebec maple mousse cake topped with a screech rum caramel.
John Paul Tasker (new window) · CBC News ·