Home
Politics
Liberal government to offer $100M to shore up police in Haiti: source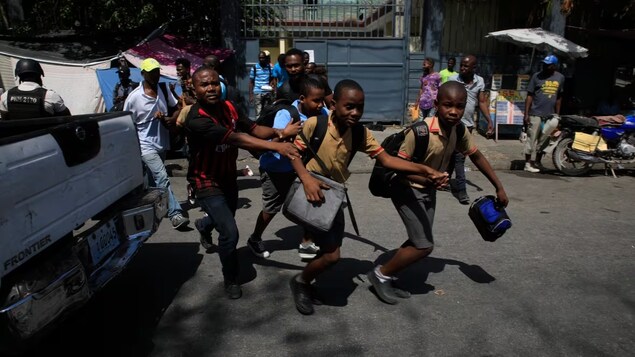 UN concerned as 'extreme violence continues to spiral out of control' in the country
Canada will announce $100 million in aid to Haiti's police force, for equipment and other support, a government source with knowledge of the matter told Radio-Canada. 
Details of how the money will be spent will be provided later Friday. 
The news, first reported in La Presse, comes during U.S. President Joe Biden's two-day visit to Ottawa, where the president is expected to press Prime Minister Justin Trudeau to take a leadership role in restoring order in Haiti.
Canada has pushed back against calls to lead an international stabilizing force, determined to avoid being dragged into the quagmire of urban violence now sweeping the country.
The funding announcement also comes days after the UN issued a statement expressing grave concern for the country as extreme violence continues to spiral out of control.
According to the UN, 531 people have been killed, 300 injured and 277 kidnapped in gang-related incidents that took place mainly in the capital of Port-au-Prince from Jan. 1 up to March 15 of this year. 
The UN High Commissioner for Human Rights, Marta Hurtado, said that in the first two weeks of March alone, clashes among gangs left at least 208 killed, 164 injured and 101 kidnapped. 
Most of the victims were killed or injured by snipers who were reportedly randomly shooting at people in their homes or on the streets, said a statement issued by Hurtado (new window).
Sexual violence is also used by gangs against women and girls to terrorize, subjugate and punish the population, the statement added. Gang members frequently use sexual violence against abducted girls to pressure families to pay a ransom.
The violence has led to the displacement of at least 160,000 Haitians with surging prices for food leaving half of the country's 11 million citizens without enough to eat.
Leading Haiti mission 'would be challenging': Eyre
Chief of the Defence Staff Gen. Wayne Eyre said this month he doubted Canada could pull off such a mission right now, given its commitments in Europe.
My concern is just our capacity, he told Reuters earlier this month. There's only so much to go around ... It would be challenging.
Retired Lt.-Gen. Steve Bowes ran Canadian Joint Operations Command, the headquarters charged with planning such interventions. He said a fight against Haiti's gangs would be much like the army's long war with the Taliban.
For all intents and purposes, the gangs act as insurgents, he told CBC News. So it's not dissimilar.
Port-au-Prince is a mountainous city built around a bay, with about three million inhabitants and some of the world's most crowded shantytowns. It is controlled by a patchwork of dozens of gangs, several of which have grouped together into larger alliances such as G9 and GPep.
All of the gang leaders live off the proceeds of kidnapping and extortion and terrorize the city to squeeze money from its impoverished population.
Their arms and ammunition mostly enter Haiti through its loosely-controlled port, which includes terminals controlled by elite Haitian families and businessmen accused of arming the gangs and employing them to further their own interests.
Peter Zimonjic (new window) · CBC News