Home
Society
Yukon First Nation aims to develop alternative justice system for some crimes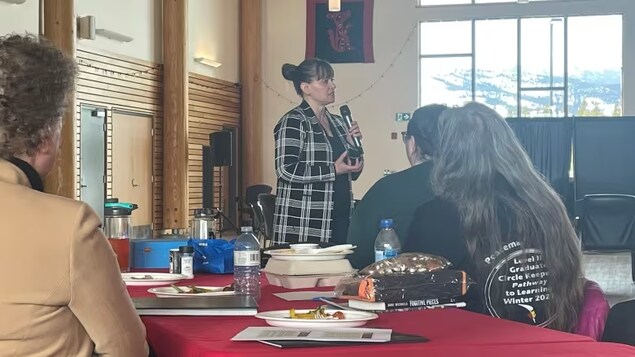 Carcross/Tagish First Nation official says traditional courts can be revolving door for Indigenous communities
The Carcross/Tagish First Nation (CTFN) in the Yukon is exploring a justice model that considers crime without punishment, which it hopes will better serve its citizens.
The First Nation is developing an alternative court, separate from the traditional justice system, that would handle minor crimes by offering supports within the community.
Esther Armstrong is the justice coordinator for CTFN. She says the territorial courts can be a revolving door for First Nations communities. In many cases, she says, rehabilitation should be closer to home, and tailored to the individual.
So, rather than a traditional court where we're focused more on punitive [measures], Armstrong said.
Recognizing the fact that there's an underlying factor that led the person to be where they are, whether that's mental health, working through some substance use, things like that.
Should such a court materialize, people charged with summary offences and small crimes could opt to go through the local, alternative court. Instead of facing possible prison or jail time, these people would accept responsibility for their offence, develop a plan to be accountable for their actions, and work toward reintegration in the community.
This wouldn't be a soft approach, Armstrong said, but a shift in focus. The new system would address the causes behind crime, and works with offenders on a case by case basis to ensure they get the help they need to prevent patterns of criminal activity.
CTFN deputy Haa Shaa du Hen (chief) Darla Jean Lindstrom says a local, non-punitive approach will offer a healing path compared to a traditional court system that she says doesn't always work in a small First Nations community.
For me, it's just a continuation of colonization, the '60s Scoop and residential [schools], she said. We are a sliver of Canada's population, but we're well over-represented of…people in jails.
So until these social indicators come to reflect the true population of Canada's population, we are still part of a system that's oppressive [and] suppresses our people. So we have to use our virtues and values in regards to finding health and well-being within our communities.
A national report released in November (new window) by the Correctional Investigator of Canada found 32 per cent of the country's prison population is Indigenous, despite making up only five per cent of Canada's total population.
Details still to be worked out
There's no hard timeline for when an alternative court might be ready and details still need to be worked out for what rehabilitation and supports might look like.
The First Nation invited citizens to share their vision and ideas for a local therapeutic court at a talking circle in Carcross this week. Armstrong said the meeting was held in confidence, but she could say that citizens were optimistic about how a new court would address crime in the community.
There are also already models for this type of court, Armstrong said, noting that community justice isn't a new concept in the Yukon.
Armstrong referenced Liard First Nation's Dena Keh program, which integrates Kaska tradition and values into the justice system. When a crime is referred to the Dena Keh council, the offender, victim and others impacted gather to talk through how to repair the harm done and find accountability. In that model, the charged person is then returned to court where a judge can stay proceedings based on the conference, or go ahead with the charges.
The point is to restore harmony in the community in a way that's led by the First Nation.
Armstrong says programs like those are just a starting point, though.
The key thing is that we can learn from the other programs, but for this to be successful, we really need it to be driven by the needs of our community and the interest of our community, she said.
CBC News