Home
Society
Newcomer students, employers 'hopeful' about work opportunities from job fairs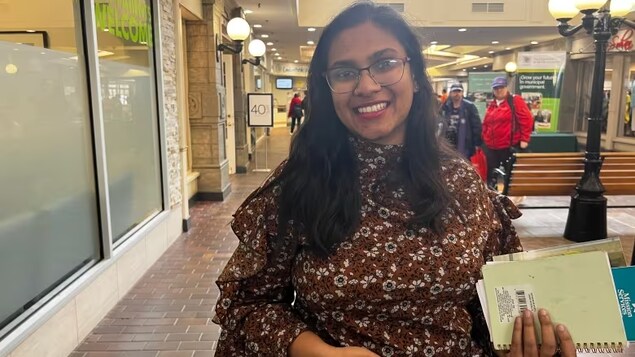 Employers and job seekers say in-person interactions at job fairs help make connections
A community job fair at London's Cherryhill Mall brought a great deal of optimism for both job seekers and employers who say they feel hopeful about the possibilities of filling job vacancies. 
Those looking for employment believe job fairs give them in-person networking opportunities with hiring managers that can increase their chances of securing a job and get a clear idea of the kind of workers a company is looking for, they said. 
Most of the time, we apply online and don't get responses, but when we come to career fairs like this, we can directly contact these people and get more productive results, said Lakshi Chandrathilak, who is looking for full-time work after she graduates in the summer.
We don't want to wait and wonder what happened to our CV after applying online. Over here, HR managers directly tell us what they're looking for, which is easier for us and them.
The mall was filled with people on Thursday looking for work opportunities with more than 22 different employers in a variety of sectors, including admin, health care, retail, and more. 
Many of the job seekers were international students and newcomers to Canada. They say their unique situations pose challenges to finding employment, such as a lack of flexible hours and part-time work. 
Chidera Onyekwe attended her first-ever job fair after looking for a part-time job since January without much luck, the Fanshawe College student said. 
With my school schedule, it's hard to find something with good hours. I don't have enough [availability] for full-time work, but that's what most employers are looking for, she said. It's honestly frustrating and gives me some anxiety.
Employers trying to accommodate
Hiring managers also reaped the benefits of face-to-face interactions, which allowed them to connect with the community. 
Lorena Leoncio, the HR coordinator for Commercial Cleaning Services, said she received more than 100 resumes within the first two hours of the fair. 
We've been doing job fairs for a year, and it's great to meet new people. We always leave with a lot of resumes and hire a lot of people from these fairs, she said.
An ongoing labour shortage (new window) is impacting the cleaning service the same way as other employers that are struggling to find reliable workers, Leoncio said, adding that the nature of her business requires staff to work different shifts that don't often don't align with their schedules. 
Many times as cleaners, we have night shifts which not everyone wants to do, so I feel like it's more of finding the person who can do the hours we need, or making sure that we can accommodate them but also attending the client's needs, she said. 
Leoncio's company offers alternatives like on-call work, rigorously training those without prior experience, and helping workers find public transportation to allow flexibility, she said.
People are eager to work, according to Cindy Sedge of Park Property Management, who's looking to fill three superintendent positions.
This [fair] is evidence of the variety of jobs, hours and compensation for different skill levels. There's always a job for somebody who wants a job, Sedge said. 
Don Zeno has been to plenty of job fairs and believes it's a great way of getting his foot in the door of different industries.
I've got many callbacks and had opportunities to meet different people and gained knowledge on different types of companies which is useful, he said.
With the reality of high living and food costs, having a well-paying job is important for Zeno and his wife, who are hustling to pay their bills, he said.
Isha Bhargava (new window) · CBC News