Home
Politics
Canada extends emergency travel program for Ukrainians fleeing war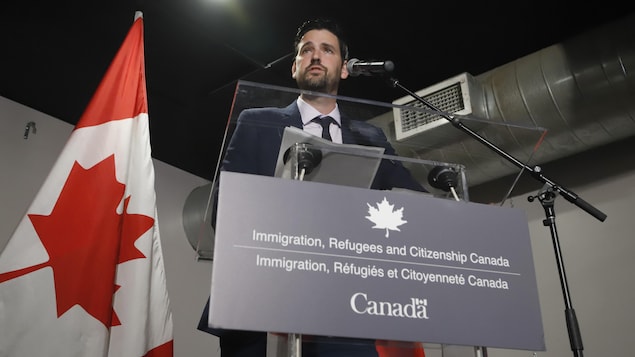 Nearly a million Ukrainians have applied to the program in the past year
The federal government is extending a program that temporarily resettles Ukrainians fleeing the war with Russia in Canada.
Ukrainians will now have until July 15, 2023 to apply to the Canada-Ukraine Authorization for Emergency Travel (new window) (CUAET) program. The program was set to expire on March 31.
It's a special measure that allows Ukrainians, and their family members of any nationality, to settle in Canada for up to three years. CUAET allows successful applicants to apply for work and study permits free of charge.
Russia and Ukraine have been at war since 2014, but Russia stepped up its invasion significantly in February 2022. The federal government has provided military, financial and humanitarian aid to Ukraine and has slapped sanctions on thousands of Russians and Russian entities..
Immigration, Refugees and Citizenship Minister Sean Fraser made the announcement Wednesday.
We're going to closely monitor the ongoing needs of Ukrainians and Ukraine, to see how we can continue to lend our support and help win this war, Fraser told a news conference.
The government has received (new window) just under a million applications to the program since it began in March 2022, and has approved 616,429 of them. Over 133,000 people have arrived in Canada through the program.
Fraser said the temporary nature of the program aligns with what Ukrainians want.
When I speak to the vast majority of Ukrainians who've arrived here, their hope is that Ukraine is going to win this war. They want to go home one day, Fraser said.
To create a program that allows them to have temporary safe haven in Canada, while we await the circumstances on the ground becoming safe one day for people to return, has allowed us to help tens of thousands of people more than what otherwise would have been the case under a traditional refugee resettlement model.
Fraser did not say whether the government would extend the program if the war continues beyond July 15. He said it will monitor the situation.
Ukrainian-Canadian organizations pleased with extension
Fraser made the announcement at Café Ukraine in Ottawa. The community cafe provides services, including language classes, to newcomer Ukrainians and host families.
We're only able to provide the support for Ukrainians because the government of Canada has generously opened the door for Ukrainians to come and find safe harbour here, Yaroslav Baran, Café Ukraine's co-founder, said at the announcement.
The announcement that you've made today is a continuation of a long tradition, 130 years, of generous opening of doors by Canada to Ukrainians.
The Ukrainian Canadian Congress (UCC) welcomed the government's announcement.
Our community is also grateful to the thousands of Canadians from coast to coast to coast who have opened their hearts and their homes to Ukrainians, the volunteers who work tirelessly to welcome Ukrainians in cities and towns across Canada, and the settlement services which deliver essential programs and supports, Alexandra Chyczij, the UCC's national president, said in a media statement (new window).
With increased support from allies like Canada, this year can be the year that the Russian armies are driven out of Ukraine and peace returns to Europe.
Richard Raycraft · CBC New