Home
Environment
Canada is sitting on 12 'carbon bombs.' Here's where they are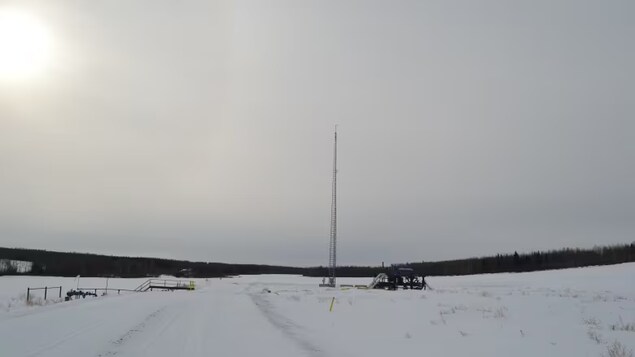 If fully tapped, these projects could obliterate Canada's climate goals
Just under the surface of B.C. and Alberta, in a rock formation known as the Montney Play, lies enough potential greenhouse gasses to blow past Canada's 2030 emissions targets 30 times over.
It's one of 12 fossil fuel reserves researchers in the journal Energy Policy (new window) have identified in Canada — called carbon bombs — that would each release a billion tonnes or more of carbon into the atmosphere if their resources were extracted and burned. This would be catastrophic for the world's efforts to slow rising global temperatures, the authors argue.
But development in the Montney is set to ramp up in the next few years, and government subsidies for the natural gas industry mean many of these projects have been earmarked to make important contributions to the economy.
Kjell Kühne, the lead researcher on the paper and a director of Leave it in the Ground, an initiative aimed at stopping the extraction of fossil fuels, says Canada needs to find a way to stop these projects, or risk increasing our contribution to climate-related disasters.
You are basically betting on humanity continuing to burn down the house at the same rate in order for you to make money, and that is a very risky bet, he said.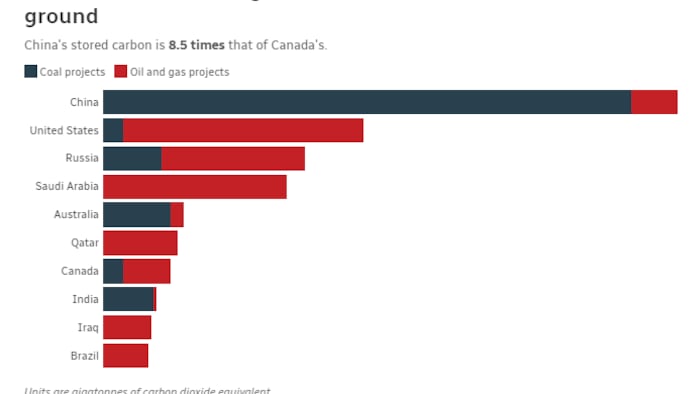 ---
A different approach
Kühne and others identified 425 carbon bombs around the world, and collectively, they would blow the carbon budget needed to keep global temperatures from rising more than 1.5 C twice over. 
Researchers measured the carbon dioxide emissions that would result if each country extracted and burned its largest fossil fuel reserves. 
Thinking about these projects as carbon bombs includes the downstream emissions of actually burning the fuel, which is a better way of measuring climate impact than how the Canadian government tallies emissions, said Julia Levin, associate director of Environmental Defence, who was not involved in the research.
The Canadian government reports only carbon dioxide emitted in Canada. It does not count the greenhouse gas emissions produced when those fossil fuels are exported and burned somewhere else. 
It allows countries — big producers of oil and gas, like Canada — to completely abdicate climate responsibility for the oil and gas that we pull out of the ground, said Levin.
---
To prevent catastrophic global temperature rise, Canada needs to end production by 2034, she said.
The science is unequivocal.
The Montney Play
Canada's largest carbon bomb — and the sixth largest in the world — is the Montney Play.
The natural gas, which is mostly methane, is extracted by hydraulic fracturing, better known as fracking, a water-intensive process that leaks methane into the atmosphere.
Methane traps 80 times more heat than carbon dioxide while it's in the atmosphere, and is responsible for about 30 per cent (new window) of the rise in global temperature since the industrial revolution, according to the International Energy Agency.
Methane, however, doesn't stay in the atmosphere as long as carbon dioxide; around 12 years instead of centuries. This means preventing methane emissions is a potential emergency intervention to keep temperatures lower in the immediate future. 
Methane is responsible for half a degree of warming right now, said Kühne. Fracking is one of the worst things you can do in the midst of a climate emergency.
New developments in the heart of the Montney had been halted since 2021 since the outcome of a B.C. Supreme Court case between the Government of B.C. and Blueberry River First Nations, whose traditional territory overlaps with a large swath of the formation. A judge ruled that the cumulative effects of resource development infringed upon their Treaty 8 rights (new window).
An agreement reached between the First Nation and the province earlier this year means the First Nation has more control over what happens on their land.
---
That doesn't mean extraction of natural gas in the area will stop. While companies are restricted in building new well pads in some areas, new wells can still be drilled on existing sites. The pads that already exist in the Montney are at about a quarter of their capacity, according to research by Allan Chapman in the Journal of Geoscience and Environment Protection.
Natural gas is a major driver of the economy in northeastern British Columbia, provides thousands of jobs and is an important source of revenue for the province.
This is why Dan Davies, MLA for Peace River North and a member of the opposition B.C. Liberal Party, says it's important for the industry to continue and even grow, because people still need it.
Natural gas is what heats homes in the region through the frigid winters, he pointed out.
It really is the heart of northeastern B.C., the oil and gas industry, he said, adding that oil and gas royalties pay for important public services such as schools and hospitals. 
Davies argues that natural gas from Canada can be an environmental win if it helps countries such as India and China get off coal. Natural gas does have lower emissions than coal, but switching from one fossil fuel to another will not result in the emissions reductions necessary to avoid a temperature increase of more than 1.5 C, according to the IEA.
---
Two of the other carbon bombs in Canada are natural gas formations, five are in Alberta's oil sands, and three are metallurgical coal mines, meaning the coal is used for making steel and not for generating electricity. 
Of the two remaining gas formations, extraction in the Liard Basin was suspended in 2021, according to the B.C. Energy Regulator (new window).
Two of the three coal mines have yet to begin extraction.
Calgary-based Canadian Natural Resources Ltd. is invested in at least two of the projects, including the Montney Play. The company did not respond to multiple interview requests from CBC News.
'A climate clown'
Levin and Kühne agree stopping these projects is important if Canada hopes to meet its climate goals.
But instead of stopping them, federal and provincial governments are subsidizing them.
The provincial governments of Alberta and British Columbia have provided more than $1 billion in subsidies to fossil fuel companies in the 2021-22 fiscal year, according to a report (new window) by the International Institute for Sustainable Development.
Natural Resources Canada spokesperson Keean Nembhard told CBC News that the federal government is committed to ending inefficient fossil fuel subsidies this year. 
Asked which subsidies specifically have been deemed inefficient, Nembhard said there is no internationally agreed-upon list of inefficient subsidies, but that officials in the federal Department of Finance and Environment and Climate Change Canada are working on a tool to identify what this means in a Canadian context. 
To date, Canada's efforts to reform inefficient fossil fuel subsidies have resulted in the phasing out or streamlining of nine tax measures that benefited the fossil fuel sector, he said in a statement.
But Levin says the word inefficient is essentially meaningless in this context.
Inefficient has no definition, she said. The word was used as a loophole to allow G20 countries to do whatever they wanted.
Kühne says ending subsidies for fossil fuel projects is important to give the world a chance at curbing rising temperatures around the globe.
The Canadian government is more a climate clown than a climate leader, said Kühne. It has the highest per capita emissions in the world and is giving subsidies to [the] fossil fuel industry.
Dexter McMillan (new window), Tara Carman (new window) · CBC News ·