Home
Society
After more than 20 years, Sudbury woman becomes Canadian citizen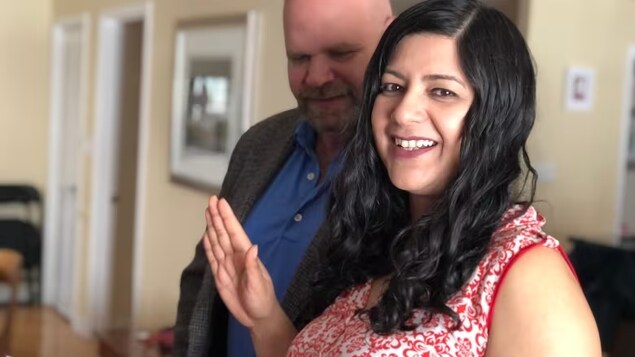 Neha Singh took the oath of citizenship Monday during a Zoom call with 57 other candidates
After living in Canada for more than 20 years, Neha Singh has finally become a citizen.
During a Zoom ceremony on Monday, she took the oath of citizenship alongside 57 other candidates across the country. 
Singh first moved to Sudbury, Ont., from India in 2002 to attend Cambrian College as an international student. She made friends, graduated, got a job, started a business and even put down roots when she got married.
Singh admits that for a long time she had all the necessary documents gathered that were needed to apply for Canadian citizenship, but kept putting off the process due to her disdain for paperwork.
A big part of the delay is — I'm absolutely terrible at paperwork.
Then last year she noticed Immigration, Refugee, Citizenship Canada had begun digitizing the citizenship applications (new window).
One day when I was Googling I found that you could do your Canadian citizenship online. It took me about two hours to submit my paperwork online, she said.
A year later I'm a Canadian citizen. It's a miracle.
It's a big deal for me personally. Really for me it's a case study in digital transformation because they've removed so many barriers by making this online, Singh said.
To help her celebrate, Singh invited a small group of family and friends to her home overlooking Ramsey Lake. Some friends bought her Canadian products like maple syrup, Tim Horton's and Smarties as gifts. She also had her mother, sister and niece on video call watching from India.
During the 45 minute ceremony Singh was asked to cut up her permanent residency card, then she took the oath of citizenship along with the others online and finally the ceremony included signing the national anthem, O Canada.
Singh was glad to conduct the process over Zoom otherwise there would have been a delay to wait for an in-person ceremony. And she suspects there were others online from smaller communities across Canada.
I'm sure there's people from all over, all rural places that they're trying to process together. 
We had 58 new Canadians today.
Erica Caden is a long-time friend of Singh's, who is also considering becoming a Canadian citizen. She came in 2013 from near Philadelphia, Pa.
I am a permanent resident and hope to take that same oath someday, so it was great to see the process and be here and support her, she said.
Caden is pleased the application process has been simplified.
It's been digitized for the modern age. 
Caden hasn't yet started her application process but said that having a friend who's gone through the ropes with the paperwork, she thinks it will be easier than she thought it would be.
For Singh a lot of the reason for working to get her Canadian citizenship is to then get a Canadian passport.
The Canadian passport gets me into about 168 countries. So travel — the ease of travel — was my primary motivation to become a Canadian citizen, she said.
With only a permanent residence card Singh said it was always a big hassle to travel because she had to apply for a VISA each time.
So with her new Canadian citizenship and eventually Canadian passport that extra step will be removed.
It's a really different sense of freedom.
She'd like to take a quick shopping trip across the border into the US just to mark getting her passport.
At least that's to start, but I will be doing a lot of traveling this summer.
Angela Gemmill (new window) · CBC News