Home
International
European Commission president calls Canada a 'true friend' in address to Parliament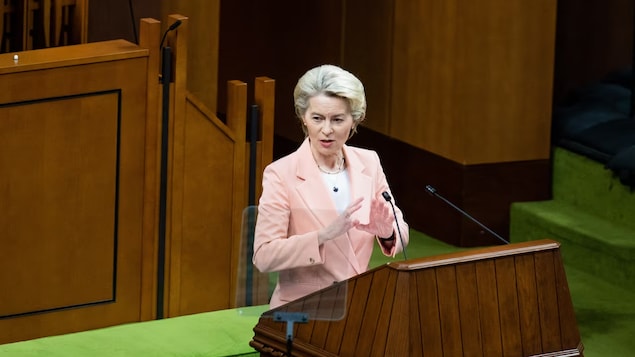 President von der Leyen praised Canada for supporting Ukraine's struggle against Russian aggression
Addressing the House of Commons Tuesday night, European Commission President Ursula von der Leyen praised Canada for standing with Europe in supporting Ukraine's defence against Russian aggression.
She told parliamentarians that the ties between Canada and Europe have only been strengthened by Russia's war, which she described as a challenge to democracy.
Hard times reveal true friends, she said. This is what the European Union and Canada are.
"[Russian President Vladimir] Putin refuses to recognize [Ukrainians'] freedom and their independence. And this we can simply not accept.
We will never accept this threat to European security and to the very foundation of our international community, and I know Canada's commitment is as adamant as ours.
WATCH | EU leader thanks Canada: 
EU leader thanks Canada for unwavering support of Ukraine during Parliamentary address
President of the European Commission Ursula von der Leyen addressed the House of Commons and spoke about Canada's support for Ukraine over the last year.
Invoking the memory of Canadian troops who fought to liberate Europe from Nazi control in World War II, von der Leyen thanked Canada for helping to defend democracy in the past and present.
We owe our democracy to you, the people of Canada, she said. Eighty years after the end of World War II, the values of freedom and democracy are still a strong bridge between the two shores of the Atlantic.
The European Commission president applauded Ukraine's resistance to Russia's war and Canada for training Ukrainian soldiers through Operation Unifier, which she said saved Ukraine in the first days of the invasion.
Von der Leyen received a number of ovations throughout her speech. Before her address, Trudeau introduced von der Leyen as an ardent supporter of Ukraine.
You are here as an inspirational leader who has been central to galvanizing support for Ukraine and its people, he said.
Speaking on the eve of International Women's Day, the first woman elected to be president of the European Commission gave a nod to the women of Ukraine who she said are signing up to join the fight against Russia.
These women also smashed a glass ceiling over the head of the Russian invaders, she said.
Von der Leyen accused Russia of using sexual violence as a weapon of war and called its assault on Ukraine a war on women's rights.
WATCH | EU leader marks International Women's Day:
EU leader marks International Women's Day in address to Parliament
European Commission President Ursula von der Leyen spoke of the many women who stepped up to support Ukraine over the last year on the eve of International Women's Day.
She concluded her address with a call to arms on gender equality.
We have a duty to set an example for society and the economy of what a world of fair chances look like, she said.
And this duty counts every day. Not just on International Women's Day.
Upon her arrival, von der Leyen was greeted by House Speaker Anthony Rota, Senate Speaker George Furey, Conservative Deputy Leader Melissa Lantsman, Bloc Québécois Leader Yves-François Blanchet and NDP Leader Jagmeet Singh, among others. Conservative Leader Pierre Poilievre was not in attendance. When asked by CBC News, the party didn't give a reason for his absence.
Earlier Tuesday, Trudeau announced more support for Ukraine and a new hydrogen agreement with Europe (new window).
Canada will extend the Operation Unifier mission to provide engineering training in Ukraine until at least October, and Canadian medical trainers will be sent to help Ukrainian forces learn combat medical skills.
Canada is doing much more than its fair share already compared to others and is going way beyond what is necessary. So I want to thank Canada for that, von der Leyen said at a joint press conference with Trudeau.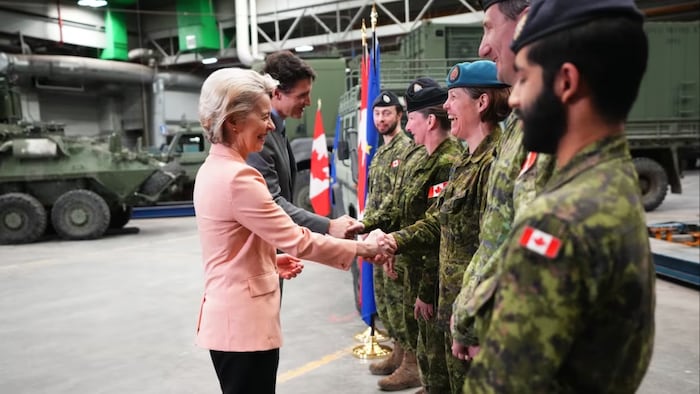 Trudeau announced that Ottawa will spend $3 million to support efforts to clear landmines and unexploded ordnance in Ukraine, on top of $32 million already committed to that work. The EU is putting 43 million euros toward the same effort.
The EU has now designated Canada as a partner country on economic sanctions against Russia, and the two are working together to send Canadian energy transformers to support the Ukrainian electrical grid. Seven of those transformers are to be delivered soon.
For as long as it takes, we will stand shoulder to shoulder with our European partners for Ukraine, Trudeau said.
Darren Major (new window) · CBC News