Home
Arts
[Report] Basquiat in Montreal: visual arts, music in New York and Latino background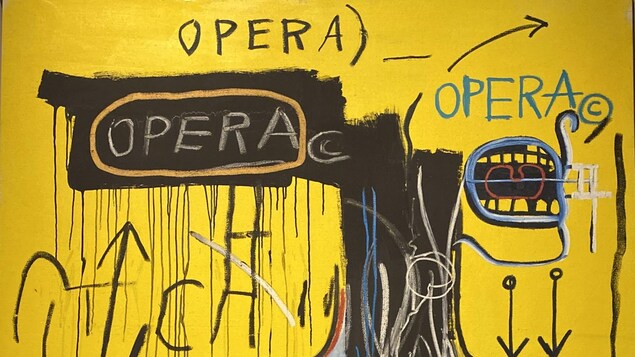 Seeing Loud: Basquiat and Music is on display in Montreal until February 19. It's the first large-scale exhibition dedicated to the various musical styles in Jean-Michel Basquiat's visual work.
Was the artist influenced by his Puerto Rican and Haitian musical background?
The exhibition presented by the Montreal Museum of Fine Arts (MMFA) in collaboration with the Musée de la musique - Philharmonie de Paris is a look at Jean-Michel Basquiat's works that highlights his relationship with music and sounds.
As they go from one room to the next on the third floor of the museum's Jean-Noël Desmarais Pavilion, visitors are exposed to colourful visual works with symbols or words that seem to evoke sounds and melodies.
Each gallery is associated with a particular musical style and iconography.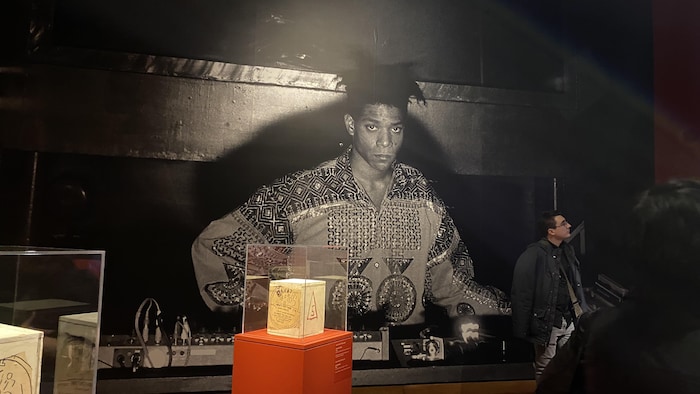 According to Mary-Dailey Desmarais, Chief Curator at the Montreal Museum of Fine Arts MMFA and commissioner of the exhibition, Jean-Michel Basquiat's work is imbued with a unique soundtrack.
For the exhibition commissioner at this prestigious Canadian museum, by transposing music into his work, Basquiat celebrated Black wisdom and addressed the thorniest questions of his time by bringing to life the sounds that inspired him and giving a soul to this particular period in history.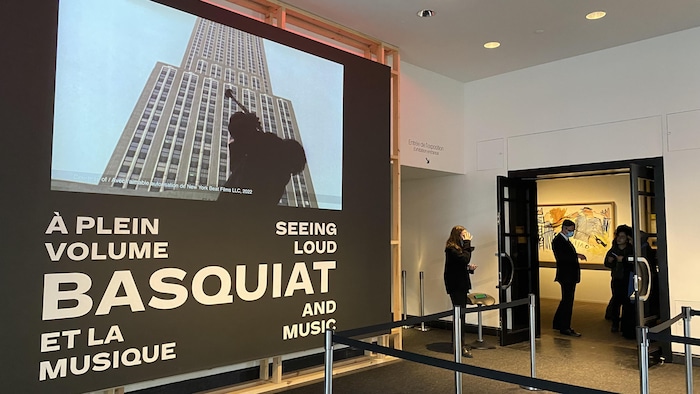 Considered to be one of the most innovative artists of the second half of the 20th century, Jean-Michel Basquiat was born on December 22, 1960, in Brooklyn, New York.
He was the second of four children. The artist had two younger sisters, Lisane and Jeanine. His father, Gérard Basquiat, was born in Port-au-Prince, Haiti. His mother, Matilde Andrades, was born in Brooklyn to Puerto Rican parents.
Background and a feeling of belonging
Many biographies about Basquiat cover his Puerto Rican origins and mention the birthplace of his grandparents and the influence of his mother, the visual artist and graphic designer Matilde Andrades. The Montreal Museum of Fine Arts MMFA exhibition doesn't make any particular reference to this.
According to Armando Perla, Jean-Michel Basquiat's mother was an integral part of his artistic background. The Canadian-Salvadorian curator even wonders what Basquiat's work would be like without the influence of his mother.
She [his mother, Matilde Andrades] got him a membership at the Brooklyn Museum and New York Museum of Modern Art as a young child. She brought him to see [the musical] West Side Story, which tells the story of Puerto Rican gangs in the city. Every year, she took him and his sisters to the city's Boricua Festival. [Matilda Andrades] was very influential in Basquiat's artistic production. A quote from Armando Perla, curator, doctoral student and activist.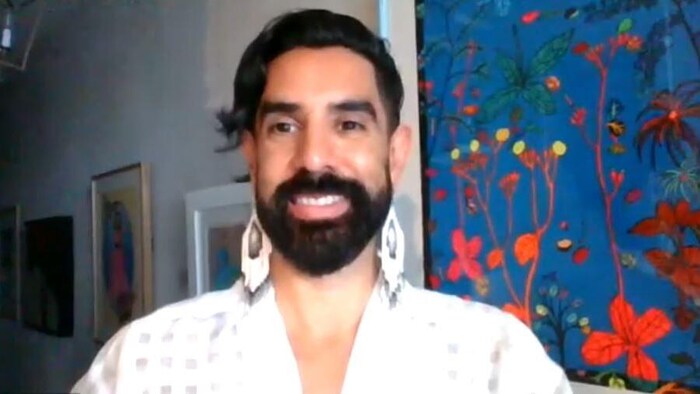 In an article for BBC Mundo, the journalist Ronald Ávila Claudio stated that Jean-Michel Basquiat's mother is undoubtedly the person who encouraged him to pursue his artistic career. In 1969, during a stay in the hospital, Matilde Andrades gave the young Basquiat a copy of Gray's Anatomy, which would become a source of inspiration for his future anatomical drawings.
My mother gave me all the primary things. Art comes from her, the artist said about Matilde Andrades in a 1986 interview, according to Ávila Claudio.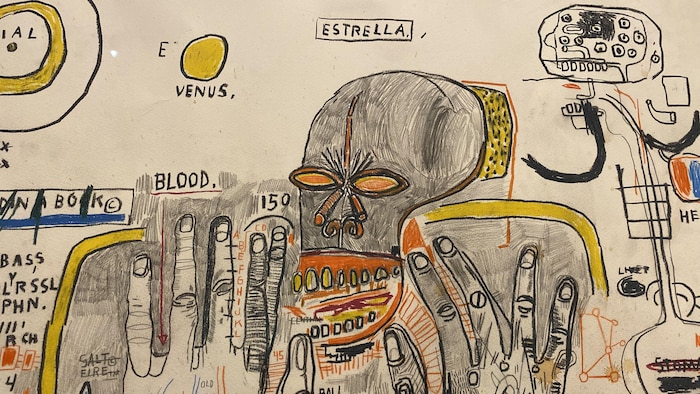 Armando Perla, a doctoral student in art and museology thinks that in the context of the musical theme of the Seeing Loud: Basquiat and Music exhibition in a city like Montreal, with such a large Latin American and Haitian population, acknowledging Basquiat's cultural, racial and ethnic background is particularly relevant.
This type of detail, in two or three lines, gives these communities [Latin American and Haitian] the feeling of being represented and allows them to connect with the art. It's a magical moment inside the museum. It's something that makes us feel that we belong to this space, this story. The feeling of belonging is cruelly lacking in museums. A quote from Armando Perla, curator, doctoral student and activist.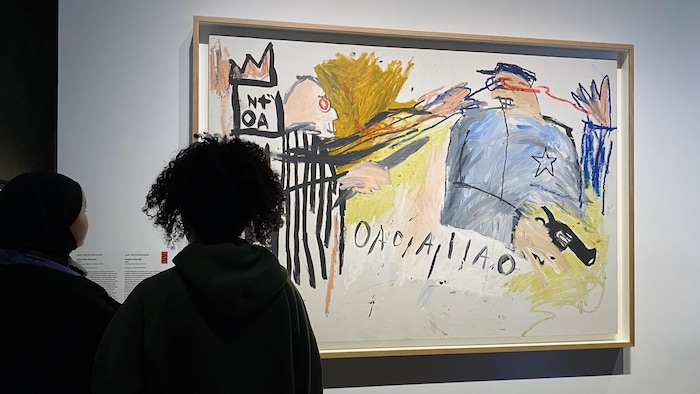 Armando Perla, who is also vice-president of the Canadian Museums Association (CMA), points out that Jean-Michel Basquiat was trilingual and spoke and read English, French and Spanish from a very young age. Languages are part of his identity and his works, highlights Mr. Perla. This is why he is disappointed that Basquiat's Puerto Rican and Haitian background is barely touched upon in the Montreal exhibition.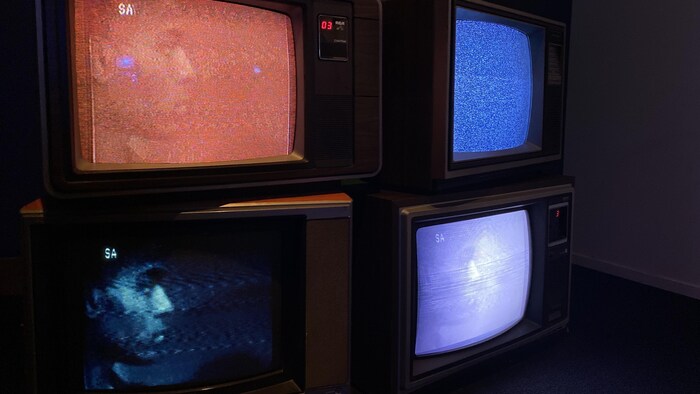 The Seeing Loud: Basquiat and Music exhibit has an augmented reality app that offers visitors content to enrich their experience in different galleries.
Also, a cultural mediation area next to the exhibition hosts creative and educational activities, as well as a space with musical and written content that is related to the exhibition.
The exhibition is open to the public until February 19, 2023, at the Montreal Museum of Fine Arts in downtown Montreal.
Note: This report is also available in Spanish.