Home
Politics
Trudeau says flying objects brought down over the past week may be linked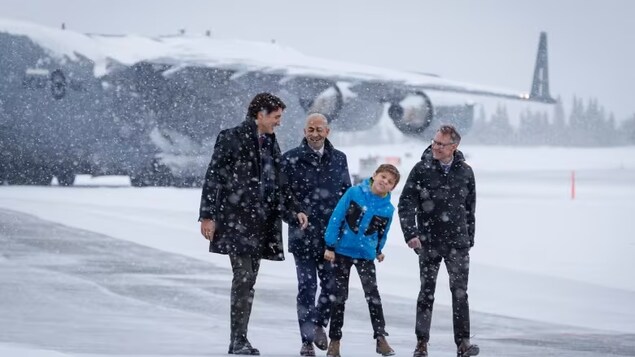 'Obviously, there is some sort of pattern in there,' the prime minister says after Yukon visit
Prime Minister Justin Trudeau said Monday the four mysterious flying objects brought down over North America over the past week may be somehow related to one another.
Speaking to reporters after meeting with Canadian Armed Forces (CAF) and RCMP personnel in Yukon, Trudeau said there's reason to believe it's not a coincidence that the four objects have been spotted over such a short time period.
Obviously, there is some sort of pattern in there. The fact we are seeing this in significant degree over the past week is a cause for interest and close attention, which is exactly what we're doing, he said.
WATCH: 'Obviously there is some sort of pattern'
'Obviously there is some sort of pattern,' Trudeau says of recent flying objects
2 hours agoDuration0:32Prime Minister Justin Trudeau says the objects that have been shot down over Alaska, Yukon and Lake Huron are 'a cause of interest and close attention.'
Trudeau said this is a very serious situation and promised both Canada and the U.S. are taking steps to defend territorial integrity from possible threats.
U.S. military personnel shot down an alleged Chinese spy balloon that drifted across the continent earlier this month.
That was followed by the discovery of an unidentified object in the sky over Alaska, which was neutralized by the U.S. on Friday.
On Saturday, the U.S. Air Force, working with its Canadian counterparts as part of a NORAD mission, brought down another object that was flying in Canadian airspace over Yukon. And on Sunday, another unidentified object was shot down in the area around Lake Huron, which straddles Michigan and Ontario.
The U.S. and Canada have not publicly identified the source of the three latter objects.
Speaking to reporters at the White House, John Kirby, the U.S. National Security Council coordinator for strategic communications, said the first object discovered was clearly a Chinese spy balloon — and the balloon's path showed it was interested in monitoring sensitive U.S. military sites.
These other three — they didn't have propulsion and they weren't being manoeuvred. We don't know for sure whether they had a surveillance aspect to them, Kirby said.
Officials have not said if the Chinese regime in Beijing is responsible for launching the objects that were identified over the weekend.
Now, questions are being asked about whether there are more such objects in North American airspace, what their purpose might be and what the military has learned from the ones that have been recovered so far.
Trudeau said the CAF and the RCMP are leading a joint mission to the area where the Yukon object was brought down.
Trudeau said wintry weather in the northern territory is making the search for debris difficult.
The unidentified object was taken down over sparsely populated territory, he said, and whatever is recovered could pose a safety risk.
It's crucial to recover as much as possible to know what exactly breached Canada's airspace, he said.
There is much analysis going on at the highest levels of NORAD, Trudeau said, adding that the very best resources of the CAF and the RCMP have been deployed to deal with the recovery efforts.
Trudeau said the U.S. Air Force brought down the object over the Yukon because their aircraft were closer — not because Canada was incapable of downing the craft itself.
Trudeau said the Americans took it down quickly so that the object was not left to drift in darkness.
NORAD is one of the only joint commands for territorial defence in the world, Trudeau said.
We'll continue to work in a seamless, integrated way. We're not concerned about who's getting credit. We're more concerned about the results we're seeking.
Conservative Leader Pierre Poilievre called the airspace intrusion an unequivocal violation of our national sovereignty and said it should be a wake-up call for the federal Liberal government.
Pointing to the role played by the U.S. in shooting down the object over Yukon, Poilievre said after eight years of Justin Trudeau, Canada cannot defend itself.
With his failure to counter foreign interference and properly resource our military over eight years, the prime minister has made us more vulnerable to foreign aggression, he said.
The government has made some investments in the military in recent months.
In the last federal budget, Finance Minister Chrystia Freeland pledged roughly $4.9 billion over six years to modernize NORAD and replace the aging northern warning system that is used to detect airborne threats. That money will help Canada and the U.S. build a a new Northern Approaches surveillance system.
Last month, Canada also signed off on the final contract to buy F-35 jet fighters to replace the air force's aging CF-18s. Canada is buying 88 of the warplanes, with deliveries expected to start sometime in 2026.
John Paul Tasker (new window) · CBC News