Home
Society
New light show tells story of Black migration to Nova Scotia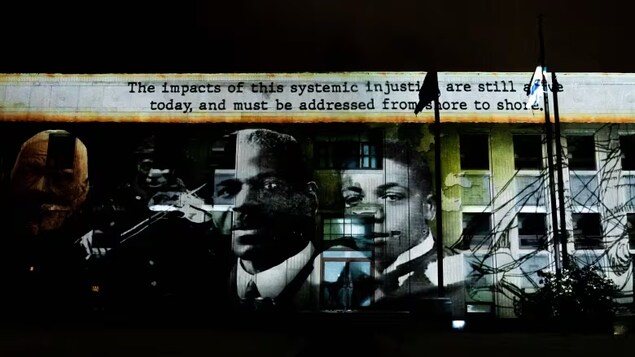 Show is projected on the side of the old library in Halifax's Grafton Park every evening this month
A light show that's being projected on the façade of the old Halifax library highlights the story of Black migration to Nova Scotia.
The three-minute show, which features graphics, imagery and original music, is called Seas of Struggles — African Peoples from Shore to Shore, which is the theme of Nova Scotia's African Heritage Month this year.
It was conceptualized and created by the Downtown Halifax Business Commission, with the help of designer Nick Iwasko and musician Bradley Raslaxx Frankson.
Te show highlights four different historical journeys to Nova Scotia by people of African descent, including the Black Loyalists, the Jamaican Maroons, refugees from the War of 1812, and Caribbean migrants who arrived in Cape Breton in 1920.
We want persons to stop and linger in the park a bit longer and kind of take a moment to reflect, Jonathan Goldson, a placemaking manager with the commission, told CBC Radio's Mainstreet on Tuesday.
A lot of times for many persons, African Heritage Month comes and goes, but what we're hoping is that persons will actually take a time to think about in their day-to-day life, how is it they can cater and be maybe even more accommodating to different Black experiences.
The light show is being projected on the former Halifax Memorial Library, at the corner of Spring Garden Road and Grafton Street, from sunset to 11 p.m. for the rest of February.
To hear more about the light show, listen to guest host Preston Mulligan's full interview with part of the creative team below.
CBC News