Home
International
Rescue crews in Turkey and Syria search earthquake wreckage as death toll soars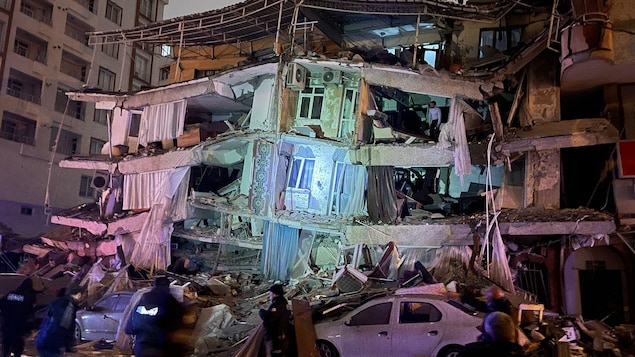 More than 3,400 dead as buildings collapse in pre-dawn quake, with multiple aftershocks
More than 2,300 people killed across 10 Turkish provinces.
More than 1,100 dead in Syria, where quake adds woes to decade of civil war.
Turkey deploys some 2,800 search-and-rescue teams.
Many aftershocks have hit the region after the initial 7.8 quake.
Several countries, international organizations say they're ready to send aid.
A powerful 7.8-magnitude earthquake rocked southeastern Turkey and northern Syria early Monday, toppling hundreds of buildings and killing more than 3,400 people and injuring thousands more as it toppled thousands of buildings and trapped residents under mounds of rubble.
Authorities feared the death toll would keep climbing as rescuers searched through tangles of metal and concrete for survivors in a region beset by Syria's 12-year civil war and a refugee crisis.
Residents jolted out of sleep by the pre-dawn quake rushed outside in the rain and snow to escape falling debris, while those who were trapped cried for help. Throughout the day, major aftershocks rattled the region, including a jolt nearly as strong as the initial quake.
After night fell, workers were still sawing away slabs and pulling out bodies as desperate families waited for news on trapped loved ones.
Because the debris removal efforts are continuing in many buildings in the earthquake zone, we do not know how high the number of dead and injured will rise, Turkish President Recep Tayyip Erdogan said in a televised address. Our hope is that we recover from this disaster with the least loss of life possible.
Sula Can told As It Happens host Nil Köksel she and her family, including their two-year-old daughter, were asleep in their apartment in Adana when it hit. She said it felt like someone was pulling the mattress right off the bed. 
Immediately, you know, I just I just grabbed my daughter and jumped out of the bed, she said, adding that it felt like the shaking went on forever as she and her husband struggled to flee their sixth-floor unit.
Can said they grabbed their coats and were about to go when an aftershock hit, forcing them to huddle in a doorway, as they heard glasses breaking in their kitchen. 
When they were finally able to get to their car, they saw other people panicked in the streets amid collapsed buildings and other damage. 
As we moved, we saw more and more people just coming out, not knowing what to do, she said. They were able to get to the university where she works to take shelter, but already knowing they have lost friends and family members. 
Tens of thousands who were left homeless in Turkey and Syria faced a night in the cold. In Turkey's Gaziantep, a provincial capital about 33 kilometres from the epicentre, people took refuge in shopping malls, stadiums and community centres. Mosques around the region were opened to provide shelter.
WATCH | Scenes of terror, shock and heroism:
Turkey and Syria hit by huge earthquake
7 hours agoDuration1:55Desperate rescue operations are underway in southeast Turkey and northern Syria after a 7.8-magnitude earthquake struck the region.
Quake adds to misery in war-torn region
The quake, which was centred on Turkey's southeastern province of Kahramanmaras, sent residents of Damascus and Beirut rushing into the street and was felt as far away as Cairo.
It struck a region that has been shaped on both sides of the border by more than a decade of civil war in Syria. On the Syrian side, the swath affected is divided between government-held territory and the country's last opposition-held enclave, which is surrounded by Russian-backed government forces. Turkey, meanwhile, is home to millions of refugees from that conflict.
The opposition-held regions in Syria are packed with some four million people displaced from other parts of the country by the fighting. Many of them live in buildings that are already wrecked from past bombardments. Hundreds of families remained trapped in rubble, the White Helmets said in a statement.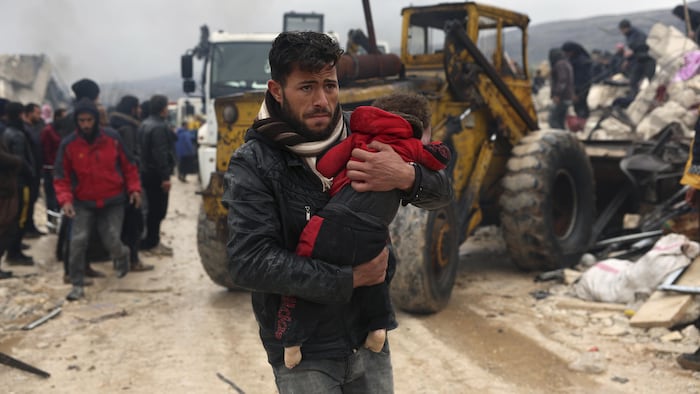 Buildings were reported collapsed in a wide area extending from Syria's cities of Aleppo and Hama to Turkey's Diyarbakir, more than 330 kilometres to the northeast. Nearly 900 buildings were destroyed in Turkey's Gaziantep and Kahramanmaras provinces, said Vice-President Fuat Oktay. 
Unfortunately, at the same time, we are also struggling with extremely severe weather conditions, Oktay told reporters. Nearly 2,800 search-and-rescue teams have been deployed in the disaster-stricken areas, he said.
The U.S. Geological Survey measured Monday's quake at 7.8, with a depth of 18 kilometres. Hours later, a 7.5 magnitude temblor struck more than 100 kilometres away.
Strained health facilities quickly filled with the injured, rescue workers said. Others had to be emptied, including a maternity hospital, according to the SAMS medical organization.
More than 6,400 people were rescued across 10 provinces, according to Orhan Tatar, an official with Turkey's disaster management authority.
More than 2,300 people were killed in 10 Turkish provinces, with more than 11,000 injured, according to Turkish authorities. The death toll in government-held areas of Syria climbed to more than 650 people, with some 1,400 injured, according to the Health Ministry. In the country's rebel-held northwest, groups that operate there said the death toll was at least 450, with many hundreds injured.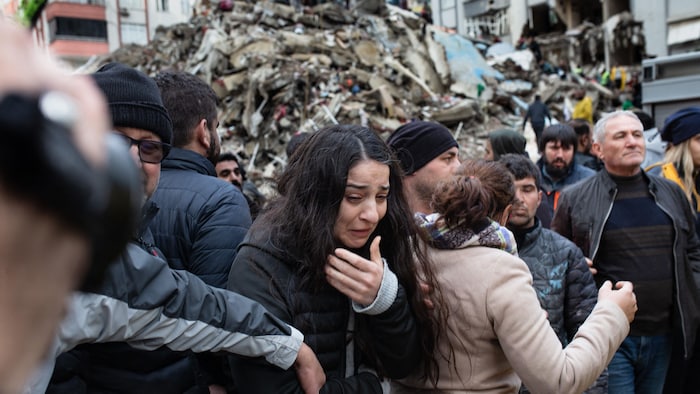 Huseyin Yayman, a legislator from Turkey's Hatay province, said several of his family members were stuck under the rubble of their collapsed homes. There are so many other people who are also trapped, he told HaberTurk television by phone. There are so many buildings that have been damaged. People are on the streets. It's raining, it's winter.
The region sits on top of major fault lines and is frequently shaken by earthquakes. Some 18,000 were killed in similarly powerful earthquakes that hit northwest Turkey in 1999.
International offers of aid
Canada, the U.S., Russia, Germany and Israel were among the many nations offering to send help.
NATO Secretary General Jens Stoltenberg said members of the alliance were mobilizing support to help Turkey deal with the aftermath, with the European Union also saying it planned to mobilize aid.
Turkey's ambassador to Canada says what's needed most on the ground right now is search and rescue resources, as well as emergency medical help.
Anything to protect people from the extreme cold, Kerim Uras told CBC News, because at night it's below zero, far below zero, and people can't go into their houses even if they are standing. He said because of the risk of aftershocks, people are living in cars or tents or even just out in the cold. 
The second jolt in the afternoon caused a multi-storey apartment building to topple face-forward onto the street in the Turkish city of Sanliurfa. The structure disintegrated into rubble and raised a cloud of dust as bystanders screamed, according to video of the scene.
WATCH | Aftershock hits as CBC News reporter prepares to go on air:
CBC reporter in Turkey experiences quake aftershock
8 hours agoDuration1:25CBC News reporter Dalia Ashry was preparing to go live on CBC News Network on Monday morning from Turkey when an aftershock from a devastating earthquake shook her surroundings.
The quake heavily damaged Gaziantep's most famed landmark, its historic castle perched atop a hill in the centre of the city. Parts of the fortress's walls and watch towers were levelled and other parts heavily damaged, images from the city showed.
In Diyarbakir, hundreds of rescue workers and civilians formed lines across a mountain of wreckage, passing down broken concrete pieces, household belongings and other debris as they searched for trapped survivors while excavators dug through the rubble below.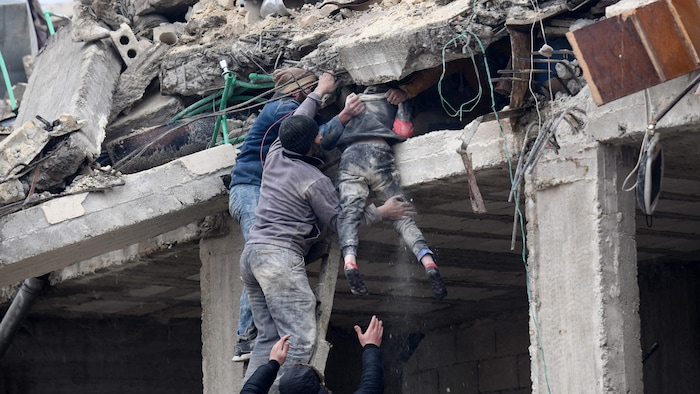 In Turkey alone, more than 5,600 buildings were destroyed, authorities said. Hospitals were damaged, and one collapsed in the Turkish city of Iskenderun.
Bitterly cold temperatures could reduce the time frame that rescuers have to save trapped survivors, said Dr. Steven Godby, an expert in natural hazards at Nottingham Trent University. The difficulty of working in areas beset by civil war would further complicate rescue efforts, he said.
The Associated Press