Home
Politics
Federal Politics
Anti-Islamophobia representative Amira Elghawaby apologizes for past comments about Quebecers
Quebec government, Pierre Poilievre have called for Elghawaby's removal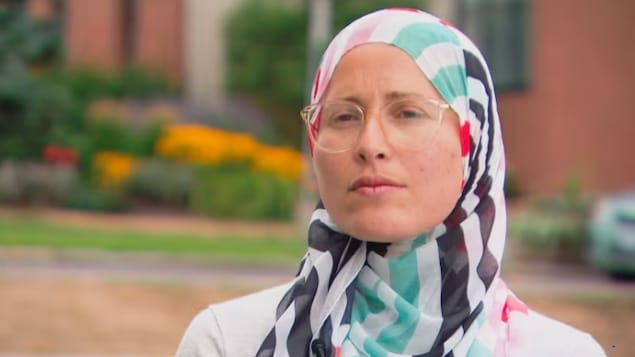 The federal government's new anti-Islamophobia representative Amira Elghawaby apologized Wednesday for past remarks about the prevalence of anti-Islam sentiment in Quebec.
Elghawaby, who was appointed the special representative on combating Islamophobia last week, made the remarks before meeting with Bloc Quebecois Leader Yves-Francois Blanchet, who had requested the meeting to push back against her 2019 remarks.
I would like to say that I am extremely sorry for the way that my words have carried, how I have hurt the people of Quebec, and this is what I am going to express to Mr. Blanchet, she said.
I understand that the words and the way that I said them have hurt the people of Quebec. I have been listening very carefully. I have heard you and I know what you're feeling and I'm sorry.
The controversy is linked to an opinion column Elghawaby co-authored with Bernie Farber, the former CEO of the Canadian Jewish Congress, that appeared in the Ottawa Citizen in 2019. (new window)
WATCH: Elghawaby apologizes
The column comments on Quebec's controversial Bill 21, which bans provincial public servants from wearing religious symbols such as hijabs.
Unfortunately, the majority of Quebecers appear to be swayed not by the rule of law, but by anti-Muslim sentiment, Elghawaby and Farber wrote.
In the column, Elghawaby and Farber said that they came to that conclusion after a Léger Marketing poll found that the 88 per cent of Quebecers who held negative views of Islam overwhelmingly supported the ban on religious symbols for public servants.
I believe she does not know Quebec. She does not know our history and I will be pleased as a citizen, as a party leader and as an anthropologist, to discuss Quebec history with her, Blanchet said Wednesday morning.
Calls for Elghawaby's resignation
Jean-François Roberge, Quebec's minister responsible for the French language, said earlier this week that Elghawaby seems to be overcome by an anti-Quebec sentiment.
All she did was try to justify her hateful comments, he said. That doesn't fly. She must resign and if she doesn't, the government must remove her immediately.
Earlier Wednesday, as he went into a caucus meeting, Conservative Leader Pierre Poilievre doubled down on his call for Prime Minister Justin Trudeau to remove Elghawaby from her new position.
Speaking in French, Poilievre said that he backed the effort to combat Islamophobia but accused Trudeau of choosing someone who has insulted Quebecers.
Speaking before Elghawaby's apology Wednesday, Trudeau said that Quebecers' opinions on religious symbols are informed by the province's history of living under an oppressive church, not by racism.
Quebecers are not racists, Trudeau said. Quebecers are among the people who are the strongest defenders of individual rights and freedoms, along with a lot of other Canadians.
Trudeau said Elghawaby is qualified for the job of reaching out to both secular and religious Quebecers.
After the meeting, Elghawaby called her conversation with Blanchet a constructive discussion and an opportunity to hear each other.
Elghawaby said that as a Muslim, she understands what it means to be judged and to be treated with bias. She said she apologized to Blanchet again in private.
I want to bring people together. I want people to listen and Mr. Blanchet has demonstrated that he does too, and he had a very good discussion and [we] are looking forward to more opportunities for dialogue, she said.
ABOUT THE AUTHOR
Peter Zimonjic (new window) · CBC News · Senior writer
Peter Zimonjic is a senior writer for CBC News. He has worked as a reporter and columnist in London, England, for the Daily Mail, Sunday Times and Daily Telegraph and in Canada for Sun Media and the Ottawa Citizen. He is the author of Into The Darkness: An Account of 7/7, published by Random House.