Home
Economy
Environment
The government wants you to own an electric vehicle — but who can even afford them?
Windsor is a future home for EV manufacturing, but numbers show many in the Ontario city can't afford them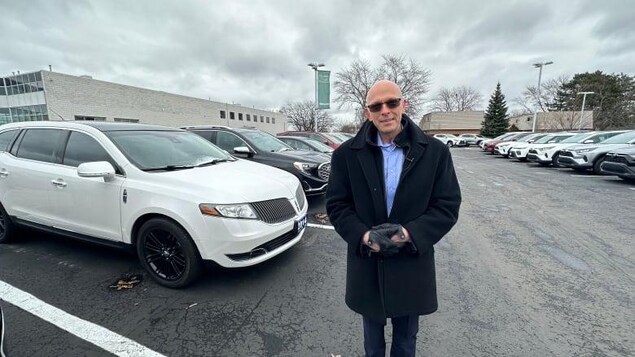 This is the first in a three-part series, The Real Cost of Electric Vehicles, diving into the future of electric vehicles and how electrification will impact Windsor-Essex. Tomorrow, we'll look at the environmental impact of the change, and on Thursday, the impact on jobs in Windsor-Essex.
---
As both the government and automakers push to make car owners transition to electric vehicles (EVs), astronomical prices threaten to make that out of reach for many Canadians. 
That means while the federal government wants every passenger vehicle sold in Canada to be electric by 2035, unless the prices become more reasonable for the average consumer, it might not be a realistic expectation. 
James Godfrey, general manager at Eastway Toyota and Lexus of Windsor, says electric vehicles — a promise on the near horizon of buyers everywhere — are sold at much higher price points than internal combustion engine vehicles or hybrids. And due to supply chain issues, he says, vehicle prices in general have seen a big jump in the last few years.
Conversations with customers on a budget are real tough, he says in front of a hybrid at his east-end dealership. That's especially true if they're going electric. 
The average consumer can't afford these vehicles.
While prices for all vehicles are up across the board, Godfrey explains that for a fully electric vehicle at his dealership, in most cases, customers would be looking at prices from $55,000 and up.
Prices of EVs currently available for purchase in Canada can range from $39,498 to $189,000, according to the Canadian Automobile Association. (new window)
Mark Stewart, chief operating officer for Stellantis North America, told CBC the technology is expensive. He said that on average, an electric vehicle is 40 to 45 per cent more expensive than a classic internal combustion engine powertrain.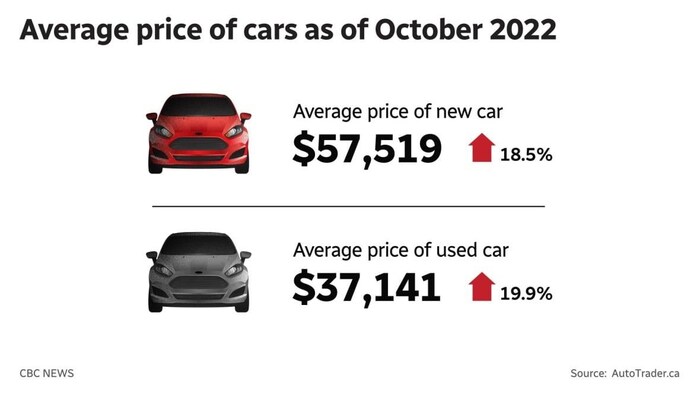 For those looking for a lower price point, Godfrey says, We're moving people off of electric vehicles onto either hybridized vehicles or straight up small fuel-efficient gasoline-powered engines.
That's not just because the cost is high. Supply is thin too. Godfrey says he probably won't actually get fully electric vehicles at his dealership until 2024, once again citing supply chain issues.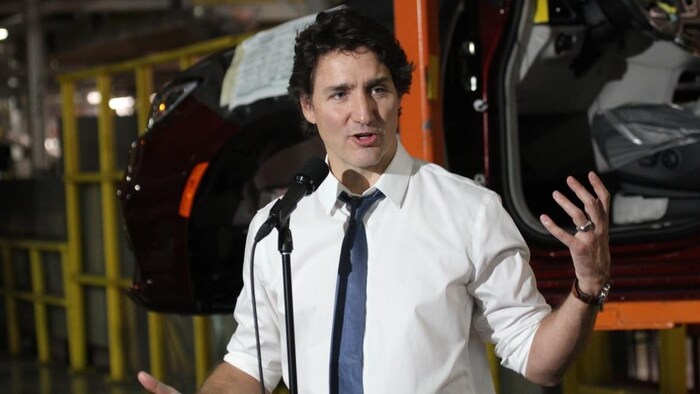 There are long wait lists for electric vehicles across the board, something Prime Minister Justin Trudeau acknowledged during a visit to the Windsor Assembly Plant in January. 
We know that the demand is super high, Trudeau said. 
We're going to continue to make sure we're investing in facilities that we've been investing in over the past year and seeing big investments come in to Canada in the zero emission ecosystem to make sure we're able to meet the rising demand and the excitement Canadians have for electric vehicles.
WATCH | James Godfrey describes 'tough' conversations he has with people looking to buy vehicles off his lot:
Are new vehicles becoming out of reach?
Meanwhile, Canadians are already struggling with inflation and higher costs of essentials like groceries and housing.  In Windsor-Essex, Statistics Canada data from 2021 shows Windsor has the fifth highest income inequality of all of Canada's major cities.
Windsor-Essex, it shows, has a medium after-tax household income of $73,000, lower than the Ontario median of $79,500. In the City of Windsor, it's $63,600.
It found that 11.3 per cent of Windsor-area households are low income, compared with the national average of 11.1 per cent.
Recently, the Federal Reserve Bank of Chicago hosted the 29th Annual Automotive Insights Symposium in Detroit. Panellist Charlie Chesbrough, a senior economist with Cox Automotive pointed out that high vehicle prices — from used to electric — are putting ownership out of reach for most people.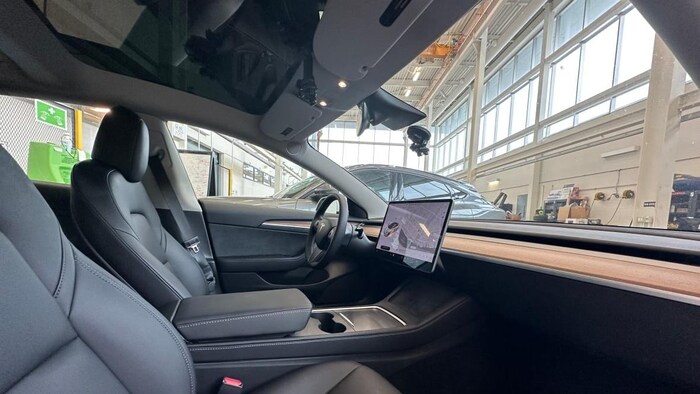 New vehicles were maybe never an every-man product in America. We like to believe that they were, but they probably haven't been for a long time, but certainly they're even less so today, Chesbrough said. 
He points out that supply chains are improving, but the high costs are not. 
He's not convinced there's much incentive for automakers to make the vehicles more affordable and give up the current seller's market.
Lonnie Smith, president of the U.S. On the Road Lending, said at the symposium that his organization has a mission to provide affordable car loans for low- to moderate-income Americans.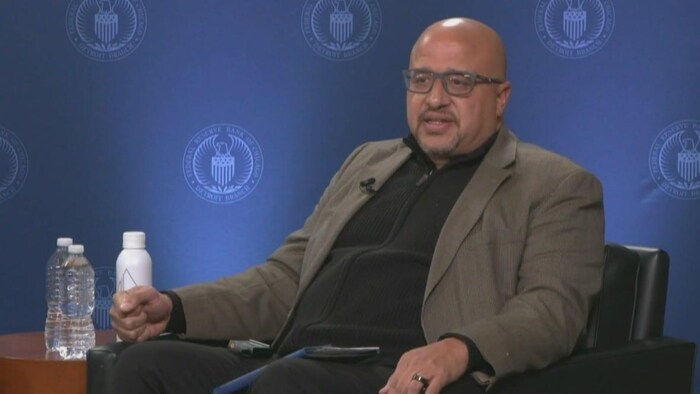 Transportation is a significant barrier to low- to moderate-income families having the ability to live their best lives, he said.
Low-income individuals are impacted disparately more when we talk about the current environment we're in.
WATCH | James Godfrey says even used vehicle prices at his dealership are higher than they used to be:
Government hopes rebates help
Edgar Faler, a senior industry analyst with the Centre for Automotive Research based in Ann Arbor, Mich., said the industry will need to find a solution to the affordability problem, especially when it comes to electric vehicles. 
They have to become affordable, he said.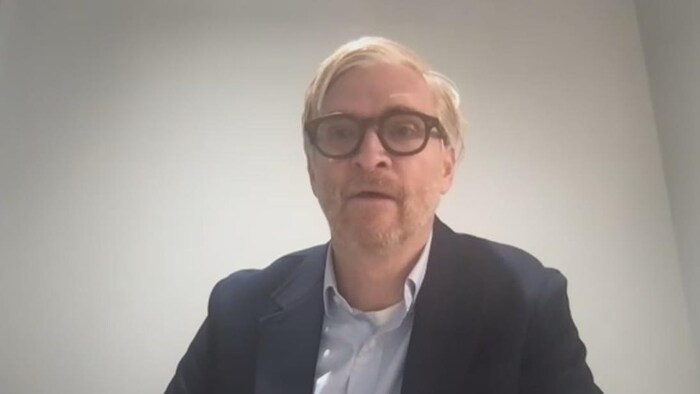 The average consumer can't afford these vehicles, that they're often secondary vehicles in many households and luxury purchases. That will need to change if we're going to hit these you know these aggressive targets of 100 per cent battery electric vehicles by 2035.
Stewart says the more competitive the company is, the more consumers will be able to afford electric vehicles.
The federal government hopes that rebates can help bridge some of the gaps.
Its program, launched in 2019, offers a $5,000 rebate for fully electric vehicles and $2,500 for hybrid vehicles within certain price points. It was expanded last year to include larger vehicles.
In Ontario, Doug Ford's Progressive Conservatives cancelled the electric vehicle rebate program back in 2018 with no intentions to bring subsidies back.
CBC has reached out to the provincial Ministry of Economic Development, Job Creation and Trade to ask what the government is doing to make electric vehicles more affordable, and whether it's thinking about reimplementing the rebates. 
A ministry spokesperson didn't directly answer the affordability questions, but said that on the matter of EV credits, the government has taken a different approach. Instead, it's investing to make sure electric vehicles will be manufactured in Ontario.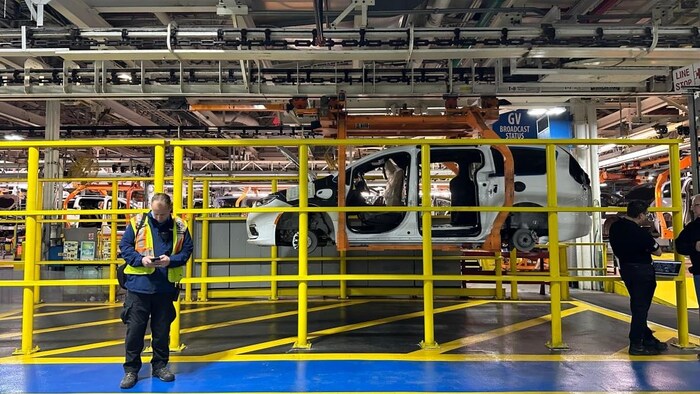 In a city that's set to start building electric vehicles and the batteries that go in them in the coming years at the Windsor Assembly Plant and at the new Stellantis-LG electric vehicle battery plant, Unifor Local 444 president David Cassidy is confident that down the road, everybody will have an opportunity to be able to drive an EV. 
They have to make sure that they're focused on the fact that it has to be good for all Canadians.
Godfrey agrees. He predicts manufacturers will realize that price points will need to come down.
We want to be able to sell those vehicles and so we'll find ways to distribute those vehicles to consumers, he says.
I just hope it's not on these long-term finance contracts that extend out into, instead of, you know, seven or eight years, longer terms than that. I hope we don't turn into a mortgage company on finance contracts with battery electric vehicles.
ABOUT THE AUTHOR
Katerina Georgieva (new window) · CBC News · Host of CBC Windsor News at 6
Katerina Georgieva is an RTDNA award winning multi-platform journalist for CBC News based in Windsor, Ont., with a passion for human interest stories. She has also worked for CBC in Toronto, Charlottetown, and Winnipeg. Have a news tip? You can reach her at katerina.georgieva@cbc.ca