Home
Politics
Ford calls police presence on Toronto transit a 'Band-Aid' solution, calls on city to hire more officers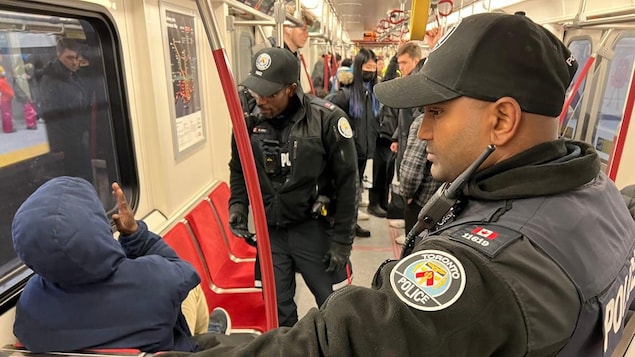 Advocates criticize addition of police; move met with mixed reaction Friday
Ontario Premier Doug Ford says the boost in police officers on Toronto transit in the wake of recent violence is a Band-Aid solution and is calling for the city to hire more police officers.
The premier's comments come a day after police announced more than 80 officers would, in a paid overtime capacity, be at Toronto Transit Commission locations to reduce victimization, prevent crimes of opportunity and enhance public safety. The move follows a series of violent cases on the TTC, including stabbings, BB gun shootings and an alleged swarming.
We need full-time police officers because right now, we're really relying on the existing police officers to come in and sign up for the callbacks, Ford said Friday.
It's not a full team there, that's what we need.
Some have criticized the expansion of police presence on transit, calling it a temporary measure that won't tackle the root causes of violence in the city.
But reaction among riders Friday was mixed.
Mixed reaction among riders
Damira Pan, a transit user, said she has witnessed violence on system in the past and said having extra officers at subway stations made her feel safer.
It is a good idea, she said after getting off a train at a downtown subway station on Friday morning. I am always looking out for officers in case I am concerned about my safety. 
Pan said the presence of police is especially needed during rush hours, when subways, buses and streetcars can get particularly crowded.
Seungbin Yoo, another commuter, said a visible police presence on transit could prevent violence, including potential hate crimes. 
WATCH | Feeling unsafe on the TTC? Here's how riders are protecting themselves:
Taking the TTC? Here's what you need to know
7 days agoDuration3:24Many TTC riders are on high alert after several violent incidents in recent months. Chris Glover walks you through some tips to keep yourself safe.
He said he has been feeling unsafe using transit since the COVID-19 pandemic began because of his Asian features and the anti-Asian sentiment that surfaced around the pandemic.
I feel very unsafe to use especially the streetcars at nights, he said.
But not everyone welcomed the boost in police on transit. 
Jaime Wilson, a transit rider, said having more police in the system doesn't help address potential underlying causes of violence, including homelessness and mental health issues.
I don't think it is the solution, she said. "The solution is housing, mental health resources, addiction resources, warm
spaces."
Wilson said despite the recent violence that's come under the spotlight, she thinks the city's transit system is generally safe.
I don't think having police presence is necessary. They are not going to be everywhere, it costs a lot of money, and I don't think people are satisfied with that solution, she said.
Move not mean to be a 'fix-all,' says TTC chair
The Amalgamated Transit Union Local 113, which represents Toronto transit employees, also said the underlying causes of violence needed to be addressed.
ATU Local 113 calls on all levels of government to work with the TTC at tackling the root causes including housing affordability and mental health as part of the broader issue of safety on public transit, it wrote in a statement Friday.
Without addressing the problem at its core, we won't have a transit system free from violence.
Metro Morning12:41TTC Chair says police officers will patrol transit and 'build relationships' with unhoused peopleJon Burnside is the chair of the T-T-C. He's also the city councillor for Don Valley East and a former police officer.
Toronto Mayor John Tory has said increased police on the TTC is one part of addressing safety issues and the city will continue investing in mental health and addictions treatment and anti-violence programs. 
Police Chief Myron Demkiw has said the increased police patrols on the TTC will be filled by off-duty officers who will be paid overtime, so on-duty officers can still respond to priority calls. 
Police have said they will be using their own data, as well as information from the TTC and communities to adjust officer
deployment locations and times. 
Speaking to CBC Radio's Metro Morning on Friday, TTC Chair Jon Burnside said whether the move will actually reduce crime remains to be seen.
I don't think anyone is under the illusion that this is a fix-all. This is a temporary — it's a short-term, hopefully — short-term solution, or something that might help the problem. But longer term, obviously, we need to understand exactly where the problem is originating. I would suspect that in the random type attacks, it has more to do with mental illness and we need a national strategy to deal with that.
Let's be clear: [the officers] can't prevent every occurrence. But I think they will have an impact and reduce that number, help to make things safer and also help to make people feel safer.
Sharif Hassan (new window) · The Canadian Press with files from CBC News