Home
Science
University of Guelph students are in the race to grow food in space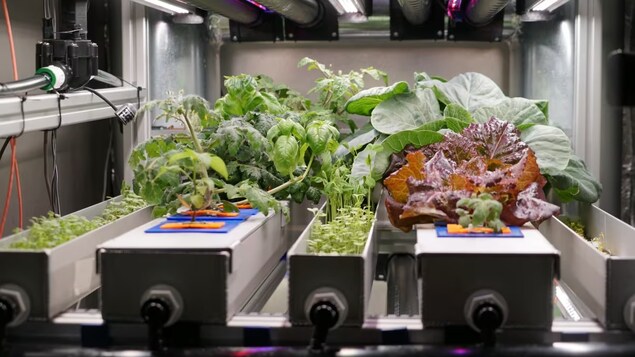 Tomatoes, carrots, bok choy and mushrooms can be grown using the team's tech
Growing food in space is a complex challenge, but students at the University of Guelph have a pretty good idea of how to go about it.
The team, Canada GOOSE — which stands for Growth Options for Outer Space Environments — is among five teams across Canada, including the University of Waterloo, competing in the multi-year competition from the Canadian Space Agency (CSA) known as the Deep Space Food Challenge. 
The team is currently on the second phase of the competition and hosted representatives from CSA on Thursday to showcase their idea.
The teams have been instructed to develop new technologies that would be able to produce food in space, but that could also be used for production here on Earth.
The Canada GOOSE team uses a hydroponic-like, high-density system to produce several kinds of fruits, vegetables and mushrooms.
We have a multi-tier system growing a variety of plants, but the whole environment is being controlled so, air circulation, temperature, CO2 level, also light levels with the LEDs. So basically giving the best conditions for the plants to grow, explained Serge Levesque, a second-year PhD student.
Rosemary Brockett, a second year masters student, explained the crops were developed and grown to produce as little waste as possible. 
We can't have any kind of waste in space or in remote areas so we're growing them all using fabric wicks, she said.
The fabric pulls up the water to the plants and then we have 3D-printed holders that support the plants and the fabric.
Brockett said they can grow root vegetables like turnips and carrots; dwarf tomatoes and peppers; leafy greens like cabbage, lettuce and bok choy; smaller trays have herbs, radish microgreens and sprouts.
Levesque said they also grow mushrooms because they play a key role in the unit's ecosystem.
Plants photosynthesize and release oxygen and mushrooms need oxygen to release CO2, so it allows us to use CO2 more efficiently, he said, adding the inedible parts of other vegetables can be used to help grow the mushrooms; a way to re-use and eliminate waste.
Tech can help feed, educate Earthlings
The Canadian grand prize won't be announced until Spring 2024, but no matter the results, the students see applications for their technology closer to home.
First-year PhD student Ajwal Dsouza says it could be a useful education tool for youth, for example.
Imagine putting this system up in a school or a university and educate people about the technological advancements happening but also [encourage] younger generations to study this, and can also imagine applications in addressing food insecurity in other more remote parts of the world, like Canada's northern communities.
A system like this can be economically feasible. You can use it in remote areas where there is food insecurity using limited resources, he said.
We can grow food in places where the weather is not good, like Canada's north or in a desert, where there's limited resources. This can help people grow food in tough conditions, said Dsouza.
The Canada GOOSE team will find out if they enter the third stage of the competition in March.
Carmen Groleau (new window) · CBC News