Home
Politics
'Everything seems broken,' Poilievre says in fiery speech ahead of Parliament's return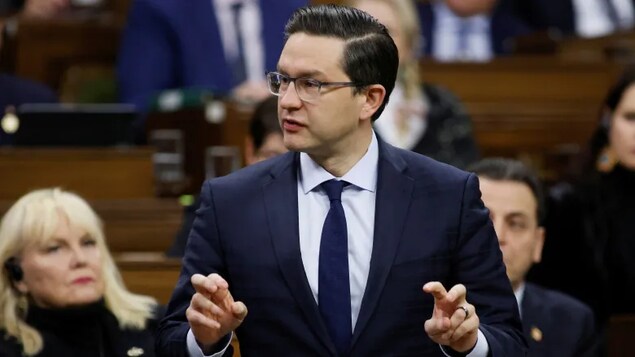 'What's happening in our country? Seriously. Look around you,' Conservative leader says
Conservative Leader Pierre Poilievre accused the Liberal government of plunging the country into chaos after eight years in office, blasting Prime Minister Justin Trudeau for a spike in crime, inflation woes and trouble at the country's airports.
What's happening in our country? Seriously. Look around you, Poilievre said in a Friday speech to the Conservative caucus. You told us better is always possible and yet everything is worse and you blame everyone else.
The speech to Tory MPs and senators revealed Poilievre's planned approach in the next sitting of Parliament, which resumes next week after the holiday break: blame the Liberals for the country's hardships while painting a bleak picture of the future under a Trudeau-led government.
A Poilievre government, the Conservative leader said, will restore order and bring the economy back from the brink.
Trudeau will address a meeting of the national Liberal caucus at 2 p.m. ET on Friday. CBCNews.ca will carry the remarks live.
WATCH | Poilievre says 'everything is worse' under Trudeau:
Addressing his Conservative caucus, Poilievre says 'everything is worse' under Trudeau
4 hours agoDuration1:44Opposition Leader Pierre Poilievre addresses his Conservative caucus and highlights crime rates during Justin Trudeau's time as prime minister.
Poilievre accused Trudeau of ducking his responsibilities as prime minister — tying a rise in violent incidents and drug overdoses to Liberal changes to the federal Criminal Code (new window) and a more permissive approach (new window) to drug enforcement.
Citing a spate of violent attacks (new window) on Toronto's transit system, Poilievre said people are scared to ride the subway because they might get stabbed.
Between January 2016 and December 2021, nearly 30,000 Canadians died from an opioid overdose, according to federal data. There are crime-ridden homeless encampments in Canada's big cities, Poilievre said, because of Liberal policies.
Justin tied the hands of our police and failed to hold the scumbag corporations who brought these drugs to our streets accountable, the Conservative leader said.
'Get out of the way'
Poilievre said big spending during the pandemic has pushed the national debt over the $1 trillion mark, fuelling inflation. The federal price on carbon emissions, Poilievre charged, has left seniors in the cold.
If you're not responsible for these things and you can't do anything about it, why don't you get out of the way and let somebody who can, Poilievre said. Everything seems to be broken, he added in French.
Trudeau has pushed back against Poilievre's claim that the country is in disarray.
In a speech at the Liberal Christmas party last month, Trudeau said when Poilievre says Canada is broken, that's where we draw the line.
Let me be very clear for the record: Canada is not broken, he said in the Dec. 14 speech, citing post-Fiona hurricane relief and a new national child care program as examples of recent progress on his watch.
At the Liberal cabinet retreat in Hamilton this week, ministers also touted a return to normal at Canada's passport offices, a promised fix to the air passenger bill of rights (new window) and meaningful progress on an increase to health-care funding (new window) as proof that the country is headed in the right direction.
Trudeau to address caucus
Poilievre dismissed Trudeau's defence Friday.
Justin says I should never mention these problems because Canadians have never had life so good, he said.
For some people, Poilievre said, the prime minister is right. Lobbyists and Liberal political assistants here in Ottawa, they've never had it so good, Poilievre said.
The government's use of outside advisers (new window) has made people at consulting firms like McKinsey rich, Poilievre said, while working-class people skip meals to save money.
John Paul Tasker (new window) · CBC News