Home
Politics
Manitoba government to hand out cheques to help with rising food, fuel costs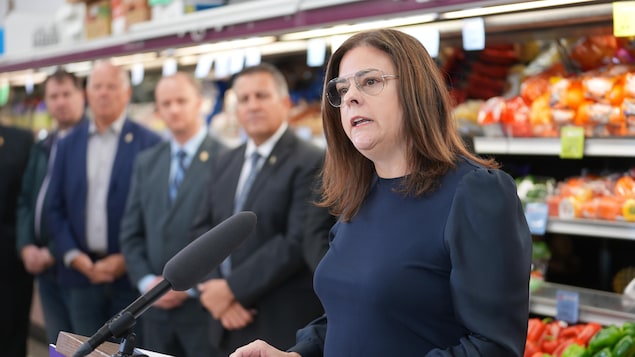 Cheques benefit people with or without children with net family income less than $175K in 2021, premier says
The Manitoba government is cutting $225 and $375 cheques as part of a new affordability package billed as a carbon tax relief fund, intended to help people make ends meet in a time of high food and fuel costs, the premier says.
It is getting hard to afford the basic necessities. We hear Manitobans when they say they can they can hardly afford to put gas in their cars, Premier Heather Stefanson said at a news conference on Thursday.
The $200-million fund will benefit roughly 700,000 people older than 18 who lived in the province on Dec. 31, 2021, and whose family net income that year was less than $175,000, with or without children.
A single person who meets the criteria will receive $225, while couples will receive $375. For couples, the lower income earner will receive the cheque. They will begin to be mailed out at the end of this month, the government website says (new window), but the process will likely take up to six weeks.
Stefanson said the carbon tax is adding to people's financial burden, and called on the federal government to put a stop to it.
This is something that they have imposed on not just Manitobans but on Canadians, and it's something that we ask them, particularly during these very difficult times, this is something that they could halt immediately, Stefanson said.
CBC News requested a comment from the Prime Minister's Office and federal Environment and Climate Change Minister Steven Guilbeault but didn't immediately receive a response.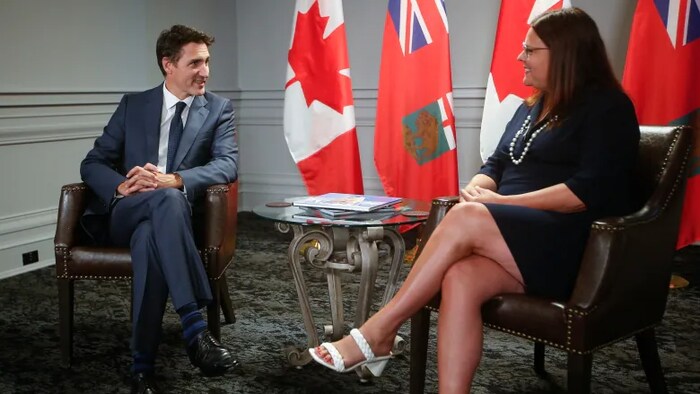 Prime Minister Justin Trudeau has previously suggested Stefanson isn't being honest (new window) with Manitobans about carbon taxes and their impacts on everyday citizens.
In the places like Manitoba, where the federal price on pollution applies, average families get more money back from the price on pollution than the extra price on pollution costs them, he said in a visit to the province in September.
Manitobans who meet the criteria each year receive payments from the federal government totalling $416 for an individual, $208 for a spouse or common-law partner, $104 per child under 19 and $208 for the first child in a single-parent family, the climate action incentive payment website says (new window).
There is an increase of 10 per cent on the base amount for residents of small and rural communities. 
Dorothy Bond says any amount helps her address the rising cost of living.
The price of food is going up, and so is a lot of things, clothing — sometimes you have to make choices, she said.
You just do the best you can.
This is the provincial government's second round of help to address inflation. In 2022, Manitoba targeted families with children, low-income seniors and people receiving income assistance.
Stefanson said the province's projected revenues are higher than anticipated, so the government is giving some of that money back. 
The carbon tax relief fund is part of an $850-million package that will be made public in the coming days, she said. The money is meant to address financial pressures within the health-care system, support Manitoba municipalities with targeted project funding and help communities and industries to continue to recover, she said.
PCs 'picking a fight': NDP
Manitoba NDP Leader Wab Kinew said Stefanson is playing into the same politics as her predecessor Brian Pallister.
The same old picking a fight with Ottawa over the price on pollution that we heard from Mr. Pallister, he said in an interview at the legislature on Thursday afternoon.
Kinew also questioned the motive for the cheques.
This is a sure sign we're in an election year. Government has to go to polls in a few months and here they are — they're going to send cheques to everybody in the province, he said.
The one-time cheque doesn't go far enough, the Opposition leader said.
I think for most people who are getting worn down by the rising cost of living, month after month, OK, we're here in January. What are you going to do next month in February? What about March, April, and so on through the rest of the year? he said.
Kinew didn't give specifics about what an NDP government would do to address affordability, but the party has talked about freezing Hydro rates. (new window)
Manitoba Liberal Leader Dougald Lamont also questioned the nature of the funding.
This is a $200-million Band-Aid that manages to combine bad policy with dishonest spin about inflation, Lamont said in a news release.
Manitobans need meaningful, long-term, targeted investments. Instead, we're getting money sprayed out of the back of a plane like a crop-duster.
Rachel Bergen (new window) · CBC News