Home
Politics
Canada to send four Leopard 2 tanks to Ukraine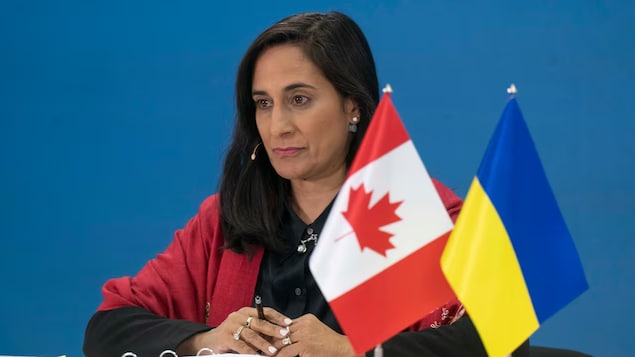 Defence minister says more tanks could be donated later but won't say how many
Canada will supply Ukraine with four Leopard 2 main battle tanks and Canadian Armed Forces trainers to teach Ukrainian soldiers how to operate the vehicles, Defence Minister Anita Anand announced Thursday.
These heavily armoured and highly protective vehicles provide soldiers with a tactical advantage on the battlefield thanks to their excellent mobility, their firepower and their survivability, Anand said.
These tanks will allow Ukraine to liberate even more of its territory and defend its people from Russia's brutal invasion. These four tanks are combat-ready and will be deployed overt the coming weeks. 
The defence minister said CAF members will be deployed pending coordination with allies to ensure that Ukrainian forces can operate and maintain the Leopard 2 tanks.
When asked why Canada was providing only four tanks — and if more tanks could be provided later — Anand said Canada would only donate vehicles it can support in the field with spare parts and training.
She also said Canada needs to ensure the CAF has what it needs to function.
We need to make sure that our army has the right number of tanks to train and to meet our NATO commitments, she said. So there is the possibility of further donations.
Anand said CAF will replace the tanks as soon as possible, but would not say when that would happen. 
For weeks, Ukraine has been asking its allies to supply it with up to 300 German-made Leopard 2 battle tanks. Several allies have those tanks in their inventories but were unable to donate them until Germany approved them for export.
On Wednesday, German Chancellor Olaf Scholz announced that his country would provide Ukraine with 14 Leopard 2 tanks from his own military.
Tanks a 'game changer': UCC
Germany made the announcement on the same day U.S. President Joe Biden told reporters in Washington that the United States will send 31 M1 Abrams tanks to Ukraine.
Germany, which was reluctant to incur Russia's wrath alone by sending tanks, had said the Leopards would not be sent unless the U.S. put its Abrams on the table.
The U.K. announced last week that it would send 14 Challenger 2 tanks to Ukraine. 
Alexandra Chyczij, national president of the Ukrainian Canadian Congress (UCC), thanked the Canadian government for the donation. 
The tanks that Canada and allies are providing will be a game changer in the fight for the liberation of Ukrainian territories from brutal Russian occupation, she said in a statement.
More to come ...
Peter Zimonjic (new window) · CBC News