Home
Health
Quebec man's COVID vaccine story spurs others to come forward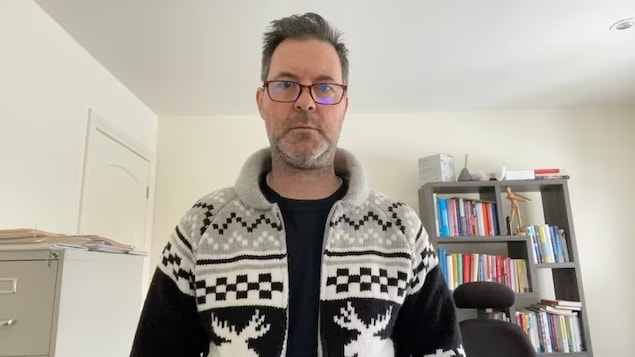 Canadians who say they suffered adverse reactions dealing with silence, stigma
The story of a Gatineau, Que., man who developed a debilitating skin condition after receiving a COVID-19 vaccine (new window) has struck a chord with many Canadians, dozens of whom reached out to share their own similar experiences.
Shortly after Tisir Otahbachi received his second dose of the Moderna vaccine in August 2021, a burning rash that had started on his hand spread to his limbs and back, forcing him to quit his jobs and seek medical treatment in Ontario. Otahbachi is now seeking redress through Quebec's vaccine injury compensation program (new window).
According to the Public Health Agency of Canada (new window), only a tiny fraction — 0.011 per cent — of the more than 95 million vaccine doses administered in this country as of Dec. 9 resulted in serious adverse reactions. But that's still more than 10,000 reported cases.
Otahbachi, who had never experienced any skin problems before, told CBC that throughout his ordeal, most of the doctors who examined him dismissed the possibility of any link between the vaccine and the sudden onset of his painful condition.
I told [them] I'm not against the vaccine, but the vaccine damaged my body, he said. The doctors that I've been to, all of them were scared.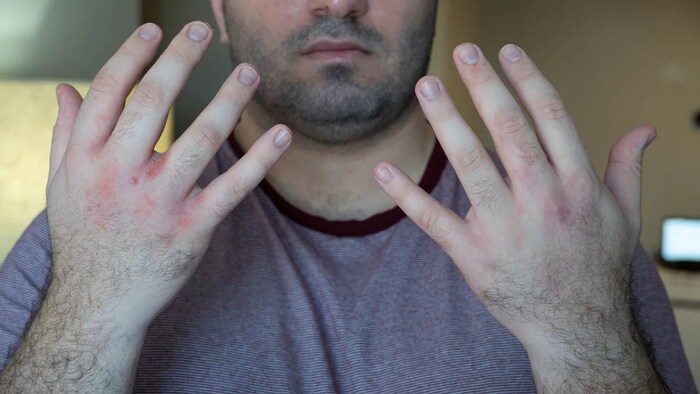 Health units monitoring reactions
According to Earl Brown, a professor emeritus of virology at the University of Ottawa, certain elements of these vaccines can trigger an autoimmune response that targets our own tissues.
You've got a lot of people who have developed antibodies to these vaccine components because they're used elsewhere in medicine or in cosmetics or in food, Brown told CBC last week.
Most of us do very well, but some of us are getting adverse reactions.
While many of those who reached out after reading Otahbachi's story said they'd also had a difficult time convincing doctors that a COVID vaccine may have caused their skin condition, Ottawa's medical officer of health Vera Etches told CBC Radio's Ottawa Morning last week that medical professionals are encouraged to report all suspected cases.
We want to understand the full range of what can happen with vaccines, Etches said. We know these kinds of things are extremely rare, but we have a system for reporting so that we can find rare things and assist people.
Local health units then report those reactions to Public Health Ontario, which compiles and examines the data to spot wider trends, Etches said.
Overall of course we know vaccines are providing a great benefit in protecting people from severe outcomes [of COVID-19].
Here's a small sample of some of the adverse reactions described to CBC.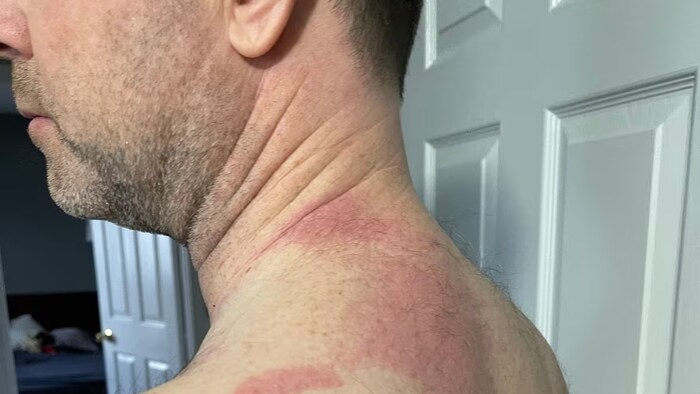 Andrew
Andrew Corless, 52, first developed hives on his torso and neck after his second shot of the Moderna vaccine, but didn't think too much of it at the time. 
It wasn't until about two weeks after his first Moderna booster last January that his symptoms really blew up, Corless told CBC.
I think we're just kind of all left stranded.- Andrew Corless
My skin erupted in pretty severe urticaria and my breathing became restricted, similar to asthma attacks, occurring every few hours but unresponsive to asthma inhalers and even prednisone, he said.
Corless, a writer and dual citizen who now lives near Montreal after spending years in the U.S., has been to a series of specialists including one doctor who convinced him to give up the family dog over allergy concerns.
None of that moved the needle, Corless said. I think they just don't know enough about it.
Corless has joined a Facebook group with thousands of members who have been dealing with similar symptoms since receiving a COVID vaccine. He said he's also reached out to Moderna, but got nowhere.
I am absolutely pro-vaccine, I want to be vaccinated, Corless said. But now what? Where's the backup and help with this? I think we're just kind of all left stranded. That's the difficult part. It's like, we played along — now what?
Sandra
Sandra Ashby spent New Year's Eve in the emergency room of a hospital in Haliburton, Ont., her skin burning to the point that she could no longer stand it.
I was there because I didn't know where to go, Ashby told CBC. This is where it's so painful, because there is no help in dealing with this.
Eight months earlier, Ashby, a retired teacher in her mid-60s who resides in Toronto, had received her second booster shot of the Moderna vaccine before travelling to England. Small spots resembling insect bites soon appeared on her legs, forming an itchy rash that eventually covered three-quarters of her body.
I'm not looking for money. I just want some relief.- Sandra Ashby
Ashby, who had experienced mild eczema in the past, was prescribed a series of topical corticosteroids, but worried about the long-term effects on her skin, tried to wean herself off the powerful medication. She now suspects she's experiencing steroid withdrawal, compounding her discomfort.
What I've got now is unbelievably painful. I mean, sleeping is just awful. I'm lucky if I get some sleep, she said. 
Still, none of the many doctors she's seen have been willing to draw a direct link between the vaccine and her condition.
They don't have time to address it, they don't want to make the connection, they're concerned about the anti-vaxxers, they're concerned about the politics of it, and I understand all of that. But what I'm upset about is, I'm in this situation and I don't know how to get out, she said.
I'm not looking for money. I just want some relief.
Daniel
Daniel, 41, was eager to share his story, but asked CBC to withhold his surname because some of his family members work in the medical field.
I wouldn't want any sort of stigma being placed on them, or any sort of association with the anti-vaccine movement or anything like that, said the engineer, who lives with his wife and their young daughter in Edmonton.
They kind of just brushed it off or ignored it.- Daniel
I'm not anti-vaccine by any means — I've had every vaccine under the sun. It's just that I've had this adverse reaction that can't be explained through normal, typical medical history.
Daniel, who had never experienced any sort of skin ailment before, first developed itchy, acne-like blisters on his fingers about three weeks after receiving his second dose of the Moderna vaccine in June 2021. His condition soon worsened, leaving him with painful open sores.
If you look around my home, you'll see blood smeared on the light switches and door handles because my hands are just constantly bleeding, he said.
Daniel was eventually diagnosed with dyshidrotic eczema and was prescribed a series of increasingly powerful steroid creams. He also undergoes ultraviolet light therapy three times a week.
While his symptoms have improved somewhat, Daniel worries he's chasing his tail instead of addressing the root cause of his condition. 
I started bringing it up with the medical professionals and saying hey, there seems to be this temporal link between developing my symptoms and when I was vaccinated, but none of [them] really addressed that or even acknowledged that statement. They kind of just brushed it off or ignored it, he said.
"If there is something in this vaccine that's triggering this event, that could change the course of treatment for people and maybe lead to a successful treatment outcome.
That's why I think it's really critical to start maybe getting less of the stigma there and not treating people as anti-vaccine, just realizing that hey, these people might be the unlucky ones.
CBC News