Home
Society
Fritznel Richard, who died near Roxham Road border crossing, made final phone call to his wife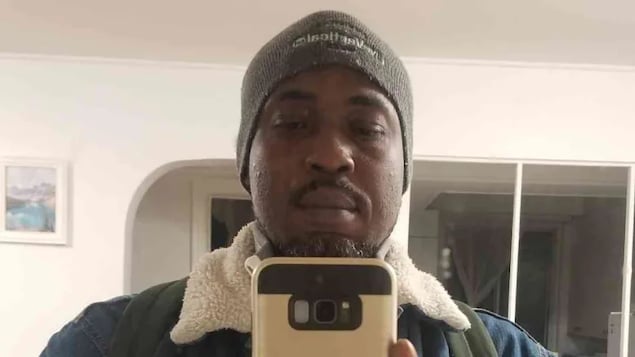 'I'm dying. I love you,' he told his wife as he was lost near the U.S. border last month
Fritznel Richard, the man who was found dead in Quebec last week after attempting to cross the border into the United States, was attempting to reach his family before Christmas, his widow shared in an interview Monday. 
Richard's spouse said over the phone, speaking in Haitian Creole. 
Frantz André, who has for years helped asylum seekers make and defend their claims to stay in Canada, is assisting the family in their next steps. He translated the woman's words into English. 
CBC News has agreed not to publish the woman's identity because of her precarious immigration status and fears of deportation back to Haiti. 
The family first fled to Brazil and had a child, who is now 19 months old, while living there. Fritznel also has an 11-year-old son, who is still in Haiti. They then moved to the United States with the goal of seeking asylum in Canada, she said. 
The couple and their baby first walked into the country a little over a year ago via Roxham Road, a popular unofficial border crossing that straddles the Canadian-American border between Quebec and the state of New York. 
But Richard's wife says the couple struggled to make a decent living in the Montreal area, due to delays in obtaining a work permit and rising costs of food and housing. 
André says he knows at least 10 people who made the same decision as them to cross back into the U.S. One of them was deported back to Haiti by American officials and died in gang crossfire two weeks later, he said.
He says their situation is emblematic of the mounting struggles facing newcomers amid a new surge of migrants coming to Quebec through Roxham Road — which was reopened for the first time since the start of the pandemic in fall 2021 — and a serious backlog in immigration processing. 
André wasn't aware of Richard and his wife's case before he died, but said
Richard and his wife lived in Quebec for about a year before she opted to cross back into the U.S. in October to deal with a serious health issue. He attempted to follow her in late December.
Quebec provincial police say Richard had been reported missing to Montreal police in late December but that a search for him was called off on Dec. 29 because police believed he had entered the U.S.
His body was found between the Lacolle border crossing and the unofficial crossing at Roxham Road in Quebec. He appears to have died from hypothermia. While Canada has set up a station where RCMP officers briefly detain irregular border-crossing asylum seekers upon entry, there is no such post on the U.S. side.
Richard's wife said her husband called her as he was trying to find his way across the border. 
André said, translating.
That was the last she heard from him.
In the end, he said, 'I'm not feeling well. I'm dying. I love you.'​​​​- Frantz André translating for the wife of Fritznel Richard
André said their story has affected him greatly and that he is helping organize a small funeral for Richard in Montreal this weekend.
he said. 
« He was more than just a husband, he was a good father,« he's not an exception. The winter is going to make it more difficult and the level of risk is just too high. »« She told him to call 911 for help. In the end, he said, 'I'm not feeling well. I'm dying. I love you.'« She says one side of his body was already frozen, »« You have people who are going through the struggle, you know, from Brazil, Chile and 10-14 countries, going through the forest and seeing people die in front of them, losing their family members and having to come here,« It's very difficult because I see it every day. And it's not the first and it's not going to be the last. » » » »
Migrants have died before while trying to cross the border. In 2019, a man from the Dominican Republic was found dead in Canada near Roxham Road, the Washington Post reported (new window). In January 2022, the bodies of four Indian migrants (new window) were found in Manitoba near the U.S. border. 
A system 'pushed to its limits'
Families are facing more barriers to getting settled in Canada, André said, and some believe they will have a better chance at success in the U.S. under President Joe Biden's administration, which recently renewed the country's temporary protected status (known as TPS) for Haitians, with their country in ever-worsening turmoil. 
He says migrants may believe they will have an easier time finding work without a permit — and often already have family members or some kind of support network — in the U.S. 
Stéphanie Valois, a Montreal-based immigration lawyer, says efforts by Canada to modernize its immigration processing systems by creating digital forms have backfired.
said Valois, who is also president of the Quebec association of immigration lawyers (AQAADI). 
Once the forms are submitted within the 30- or 45-day window required, Valois said it still takes months for the federal government to issue a work permit, forcing asylum seekers to rely on meagre financial aid cheques in the midst of a housing shortage and inflated food costs. 
What's more, she says legal aid lawyers in Quebec are underpaid and overloaded, meaning many asylum seekers' cases go untended for periods of time. 
said Valois.
Border uncertainty
To Valois and André, part of the solution is to abolish the Safe Third Country Agreement, the 16-year-old agreement between the U.S. and Canada requiring migrants to claim asylum in the first of the two countries they land in. 
A loophole in the agreement — that it applies only to official border crossings — is what has pushed thousands of migrants to cross into Canada on foot. If they find another way into the country outside of official ports of entry, they are allowed to claim asylum. « The portals are a headache. They're really complicated. They're complicated for lawyers, so I don't see any claimants being able to complete the portal by themselves,« The whole system is really pushed to its limits, » »
A number of human rights organizations, including Amnesty International and the Canadian Civil Liberties Association, challenged the constitutionality of the agreement. A Federal Court judge sided with the advocates in 2020, but the decision was overturned on appeal and made its way to the Supreme Court, which heard arguments in October. A decision from Canada's highest court is pending. 
The groups argue the agreement contradicts the human rights commitments Canada made in signing the Geneva Conventions Act by relying on the U.S. immigration system, which they say has different standards than Canada's. 
Valois believes abolishing the agreement and allowing migrants to claim asylum at official ports of entry would be safer and result in a fairer distribution of newcomers between provinces. She says the number of asylum claimants making their way to Canada is already small compared to those travelling to the U.S. and European countries. 
the lawyer said. 
Julia Sande, a policy campaigner for Amnesty International Canada, said the country should be taking steps to make irregular border crossings safer. 
said Sande. « So, it's really not an issue of numbers, in my opinion. It's really an issue of protecting human rights,« It's fully within [Canada's] power to end its involvement in the Safe Third Country Agreement and to allow all asylum seekers to seek safety in Canada and doing that would help to eliminate irregular crossings and eliminate the really dangerous conditions under which people cross between these official ports of entry, » »
Verity Stevenson (new window) · CBC News