Home
Economy
These muskox-wool hats are the warmest tuques you can find — and they help support a whole community
Beaufort Delta woman spins muskox wool at Alberta fibre mill
For many Canadians, wool is wool. You've got your cashmere, your merino wools, and a bunch of wool blends with varying levels of itchiness.
But for fibre enthusiasts, qiviut — or muskox wool — is one of the best wools around, and a woman from the Northwest Territories' Beaufort Delta is spinning out yards of the stuff at her fibre mill in Alberta.
It's like having a cloud in your hand — it's such a lightweight fibre, said Tanis Simpson, who owns Qiviut Inc. in Nisku, Alta.
It's like a little piece of heaven on your skin.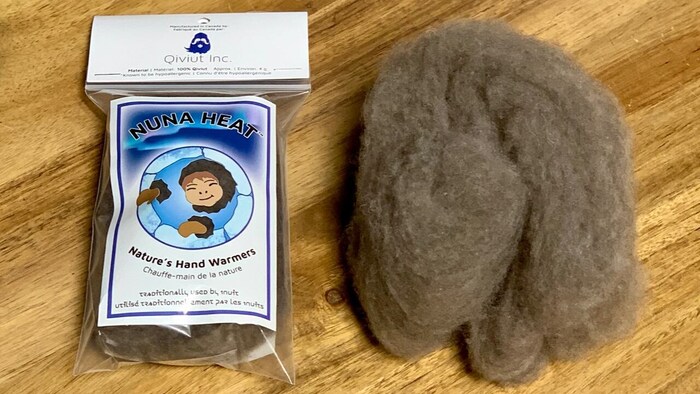 Simpson and her brother, Bradley Carpenter, started Qiviut Inc. around mid-2019, but she's been around the soft, gray-brown material all her life. She was born in Inuvik, N.W.T., and her family is from Sachs Harbour, which she considers her home.
Sachs Harbour, an Inuvialuit community of about 100 people, sits on the southwest tip of Banks Island in an area rife with muskox. The shaggy creatures have thick, coarse coats on the outside and oodles of cuddly qiviut deep underneath.
Traditionally, my grandparents would just kind of stuff it into our mitts and boots, and that's how we would generally use it, Simpson said. 
My grandmother made my brother a parka that had qiviut stuffing in it, for hunting. So we've been using this fibre for generations to help combat the cold in the North.
A northern bounty
Though the fibre mill for Qiviut Inc. is in Alberta, that northern tie has stayed strong: the hides that Simpson's team scrapes qiviut out of come from hunters in the N.W.T.
David Kuptana is one of those hunters. He said for harvesters there, polar bear, caribou and muskox are the main sources of food. Selling muskox hides means money for gas, equipment and food in a place where all of those can be pricey. The meat feeds the community — elders, non-hunters and anyone who needs it — and the horns can be used for art.
Born and raised in Ulukhaktok, N.W.T., Kuptana has hunted muskox all his life. He said it's part of the economy there, with hides fetching several hundred dollars depending on size.
It's very important, because … it's a small town. We have about 400 people in our community, there's not too much jobs around, so some people go out hunting muskox for their income, he said.
We don't waste the muskox meat and hides — we use everything. We even use it for beds, so mattresses for when you go out hunting, and they're very warm because there's a lot of qiviut in them.
Simpson said buying from people in the North is a must for her business.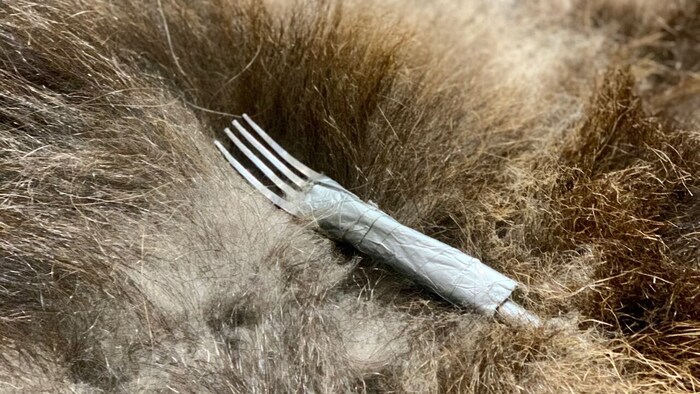 Part of the reason why we wanted to start this business was because we've utilized this animal for generations, she said. To be able to support our own people and help them get what they need to continue living their way of life is one of the priorities.
Spinning wool into yarn
Simpson's adventure into muskox-wool processing all began in December 2018, when her brother stumbled across a fibre mill for sale in Alaska. It had previously been used specifically for qiviut, and it came at a time in Simpson's life when she was looking for a change.
I kind of laughed. I was like, 'Are you crazy? We know nothing about making yarn,' Simpson recalled.
But my brother always [says], you can learn, we'll figure it out. And we kind of tend to throw ourselves into situations.
That became apparent after the machinery arrived and they started setting it up.
We looked at them and were like, 'Holy! We have no idea what these machines are about, how to work them,' she said.
They talked to people, looked up videos online and, after a lot of trial and error, got it all operational.
Now, it takes between four to six weeks to produce about 15 skeins of yarn, given the machines are running well. That includes the time-consuming work of pulling the qiviut out by hand — Simpson's team uses forks to comb it out of the muskox hide, the same tool her grandparents used for the task — and then they have to pluck out all the long guard hairs before it gets carded and spun into yarn for sale.
After it's all said and done, they'll sometimes knit cozy tuques and scarves, or knit custom orders. They also sell the fibre as hand-and foot-warmers.
Looking back at what she's accomplished, Simpson said she hopes her grandparents would be proud of her and her brother.
I think they would think it's pretty cool, she said. 
I'm sure they'd probably be sitting around with us right now if they were still with us.
April Hudson (new window) · CBC News