Home
Society
Understanding history, protocol important for allies who want to wear ribbon skirts: Advocates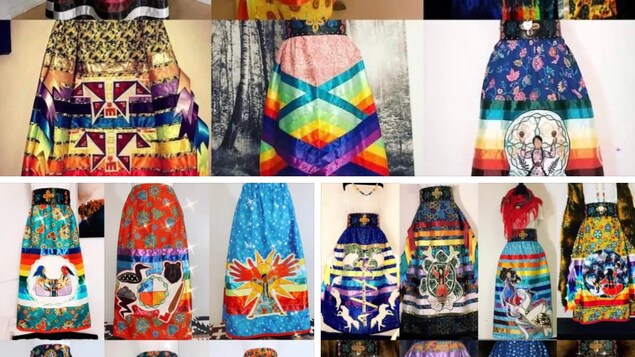 Jan. 4 recognized as National Ribbon Skirt Day by Act of Parliament
Jan. 4 is National Ribbon Skirt Day, a day where Indigenous women across the country are encouraged to wear their traditional regalia to celebrate their culture, their strength and their connection as women.
Sen. Mary Jane McCallum put forward a bill in Parliament to recognize National Ribbon Skirt Day in November 2021, and it received royal assent last month. McCallum said in a statement last month that the day is to provide an opportunity for everyone in Canada to recognize, learn about, and celebrate the importance of Indigenous traditions and expressions of culture.
But is it appropriate for non-Indigenous people to wear ribbon skirts as a way to honour Indigenous women? The answer depends on who you ask and advocates say being an ally is the most important part of the answer.
Sometimes it's important to understand when to be an ally and when you're taking up space in a non-healthy way, said Tala Tootoosis, a Plains Cree woman from Poundmaker Cree Nation in Saskatchewan.
The artist and advocate said she asks non-Indigenous people who approach her to make a skirt what they are wearing them for, and if it is for a ceremony or other related event or occasion.
Is it a performative thing, or is it because you're an ally? she said.
Are you going to learn about our culture and our trauma and advocate when you see six police officers around one small Indigenous elder on the street? It's so important to have those conversations.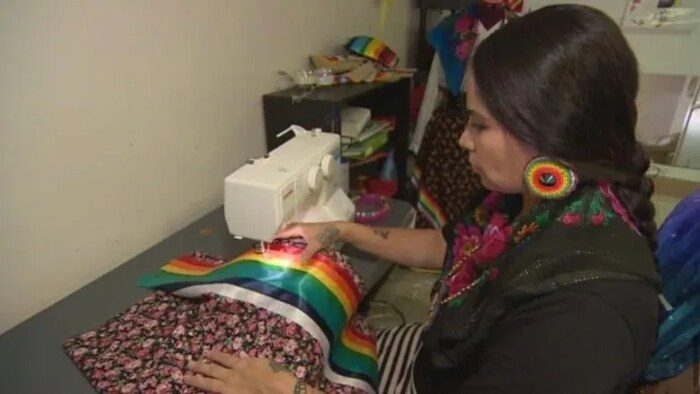 Tootoosis said she has made a couple of skirts for non-Indigenous women who worked with Indigenous youth in school. These women were holding space for Indigenous students who were not connected to their culture, she said.
On the other side, she said she has had non-Indigenous women ask her for a custom ribbon skirt, simply because they wanted to wear one for show.
Historical context important
Tootoosis educates and spreads awareness about sexual violence against Indigenous women from her own trauma and experiences as an Indigenous woman.
In her workshops, Tootoosis helps others understand the historical context of Indigenous women and the detrimental effects of rape culture. She said rape culture is closely related to missing and murdered Indigenous women, girls, and two-spirit people.
When I started doing these workshops I wanted to counteract that fear mentality, she said.
When it comes to whether non-Indigenous women should wear ribbon skirts, Tootoosis said she will always respect bodily autonomy for everybody.
I will never tell someone what they can and cannot put on their bodies.
Following protocol
Leah Dorion, a Métis artist who lives near Prince Albert, Sask., said she has taught many Métis women and allies about the history of Métis-style ribbon skirts and how to make them.
When it comes to non-Indigenous people wearing ribbon skirts, she said as long as protocol and honour of the skirts are followed, she doesn't find it inappropriate.
I've just met authentic and passionate people, people who are in service and they choose to work with the community, she said.
I've seen some non-Indigenous community members get gifted a skirt because of their honour that they walked, especially with other women. I just feel like it's not [for] me to judge. They've done their protocol, they've worked with the elders, they've been accepted by Indigenous communities, who am I to tell them no?
Dorion wrote a book about the history of Métis style ribbon skirts called sînapân kîskasâkâs: A Guide to Making Contemporary-Style Métis Ribbon Skirts with her colleague and friend Bonny Johnson.
She said connecting as women through ribbon skirts can be a spiritual way of honouring one's self and one another.
I can just wear a skirt but when I put on my sacred skirt, my intentional skirt, it just really keeps me centred and I feel very, very grounded and able to be in my space and serve my community with love and openness and joy.
For Tootoosis, she said not everybody has to wear or even want to wear ribbon skirts but they can be a way to help people connect to their culture and gain a sense of kinship.
How do we connect to our family, our relatives, our ceremonies, our land, our language and a lot of that can be connected to our ribbon skirts, she said.
When we put something on, it's because we've actually done a little bit of work to actually be proud of ourselves when we were told by history not to be.
Jennifer Francis (new window) · CBC News