Home
Economy
If you thought 2022 was bad, wait until you see what 2023 has in store for the economy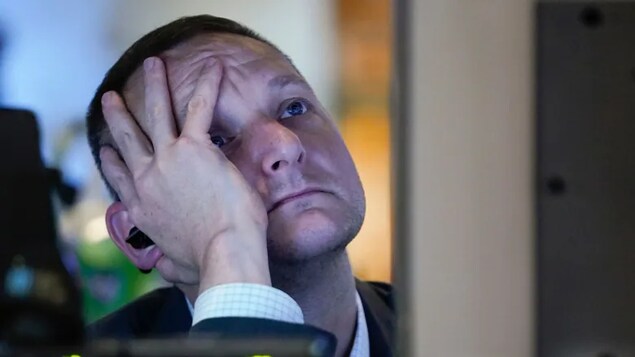 Recession, persistent inflation and rising unemployment all forecast for the new year
For many Canadians, 2022 was a tough year as interest rates climbed, inflation soared and the economy slowed. Unfortunately, 2023 doesn't look like it will provide much respite. 
Analysts say a recession is looming, unemployment is expected to rise, all while prices remain high and interest rates bite into our purchasing power.
We could be in store for a bit of a doozy [of a year], said Royce Mendes, the managing director at Desjardins Capital Markets.
He says 2022 was dominated by rising prices and a rapid increase in borrowing costs. Inflation peaked this summer at 8.1 per cent on an annualized basis. The Bank of Canada's key lending rate started the year at 0.25 per cent. Seven straight rate hikes have left borrowing costs four full percentage points higher.
Mendes says that sets up a difficult year ahead.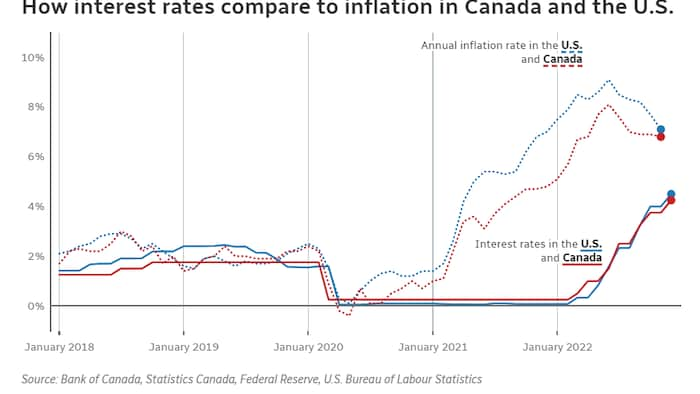 2022 was a transition to an environment of higher prices and an environment of higher interest rates. 2023 will be a year where we have to live with it for a full year, he told CBC News.
Inflation will continue to dominate 2023
Even seasoned forecasters have found this a tricky period to navigate. The economy is awash in contradictions and the data are quite noisy.
I'm coming up on my 10th anniversary as chief economist. I would say 2020 was the weirdest [year], said BMO's chief economist Douglas Porter. But this [year's] is a very odd cycle.
He points to the end of the pandemic-related restrictions that weighed on the economy, the sharp rise in prices and the continued strength of the labour market as just a few of the countervailing forces at play.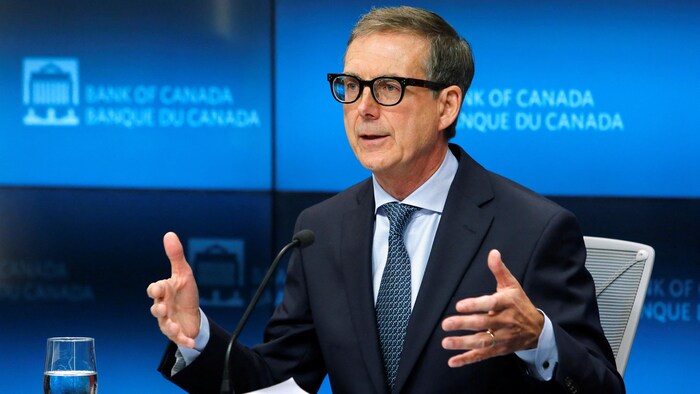 Looking ahead, he says inflation will continue to dominate the economic story of 2023. BMO's forecasts show inflation will remain stubbornly high, especially through the first half of the year.
He's predicting the Bank of Canada has one more rate hike in store in January and will then hold rates at 4.5 per cent through the rest of 2023.
All that will continue to weigh on growth. And Porter says that phenomenon is not unique to Canada's economy.
I think the global economy as a whole will struggle to see much growth this year. We think the U.S. economy will essentially be flat in the coming years. So, exports are going to face a little bit of a challenge as well, Porter told CBC News.
Recession forecasted
Most private sector forecasts in Canada now assume there will be some kind of a recession in early 2023. Those forecasts assume that it will be short and mild. 
But it doesn't take much to nudge a short and shallow recession into something much worse. In fact, researchers at Oxford Economics believe Canada has already slipped into a recession.
Canada has likely just entered a moderate recession that will last for much of 2023, Tony Stillo, Oxford's director of Canada economics, wrote in a note to clients. Prevailing household debt and housing imbalances will mix with pandemic and geopolitical forces to make Canada's recession deeper than most advanced economies.
Whether you look at private sector forecasts like Oxford's, or global outlooks from the International Monetary Fund and the Organisation for Economic Co-operation and Development, the emerging picture of 2023 is grim.
There's not a lot of positive stories for 2023, so it's pretty easy to be pessimistic, said Stephen Tapp, the chief economist at the Canadian Chamber of Commerce.
Tapp says there are plenty of risks to the downside. He says many Canadian companies took on debt during the darkest days of the pandemic and have now seen their debt payments skyrocket as interest rates rose.
WATCH | A mild recession is possible, says Macklem:
Bank of Canada governor explains how far he's willing to go to get inflation under control
2 months agoDuration8:52In a wide-ranging interview, Bank of Canada governor Tiff Macklem says Canadians should expect more interest rate hikes, and a mild recession is possible, as the central bank continues its fight against inflation.
He also says the end of China's zero-COVID policies can upset otherwise healing global supply chains.
But, Tapp agrees with most others, that inflation and interest rates will be the driving force in the economic landscape. And he says in spite of all the pessimism, he can see a path to economic recovery.
If central banks are winning the war on inflation. If stubbornly high inflation starts to come down faster than markets have priced in, that's going to be good news and markets could rally, confidence could come up and inflation expectations could anchor faster, Tapp said.
Should bounce back
That could lead to a faster bounce back in economic growth. And eventually, it would open the door to a reduction in borrowing costs.
A recession has proven to be a pretty effective tool to bring down prices. When the economy shrinks, people don't buy as much stuff. When they don't buy as much stuff, prices begin to fall and rebalance with demand.
It can be a painful process, especially when that contraction sweeps into your particular corner of the economy. But, Mendes says that painful part of the process shouldn't last very long.
WATCH | What to watch for in 2023:
While it won't be a pleasant year, it will be a year in which hopefully there is meaningful progress made in reattaining the ultimate goal of low and stable inflation.
In a lot of ways, 2023 will be a mirror image of 2022. Last year started out strong and ended weak and steeped in pessimism. 2023 will begin weak and should end strong.
By this time next year, the economy should have rebounded, inflation should have come under control and there should be a healthy dose of optimism that the Bank of Canada is getting ready to cut interest rates again.
But that's probably more shoulds than most Canadians are comfortable with.
Peter Armstrong (new window) · CBC News