Home
Science
Fashion & Beauty
What on Earth? | What's a 'clean' beauty product? No one can say for sure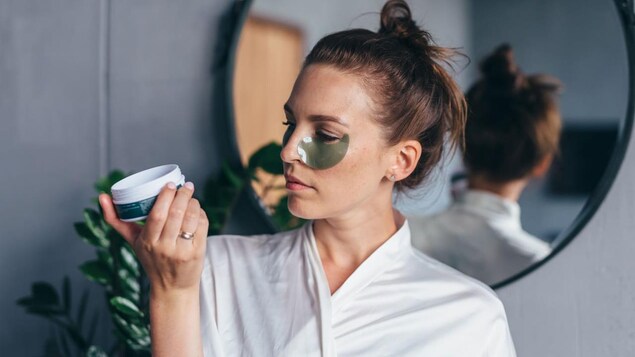 If you buy beauty products, you've likely seen cleansers, lotions and creams marketed as "clean," a term that can mean natural, chemical-free, organic, non-toxic and also: nothing. 
It's a marketing phrase that implies more than it defines, said Timothy Caulfield, a Canada Research Chair in health law and policy and professor in the school of law and public health at the University of Alberta.
What they're really selling is an idea. They're selling sort of a gestalt. They're selling a vibe. They're not selling reality, said Caulfield, who is the author of Relax: A Guide to Everyday Health Decisions with More Facts and Less Worry.
There's a dizzying choice of beauty products available to consumers. For example, retailer Sephora sells 723 moisturizers, 441 cleansers and 502 skin-care treatments on its popular website, and if you filter search "clean skincare (new window)," you get around 1,030 results (they also carry clean makeup, clean hair-care and clean fragrance).
Generally, when a beauty product is clean, the intent is for it to be less harmful to humans, animals and the environment. Whole Foods (new window), another major retailer of clean beauty products, bans 180 ingredients that could have "possible impacts on the environment and human health." 
But the problem with the clean beauty industry is that while all cosmetics sold in Canada must meet the requirements of the Food and Drugs Act (new window) and the Cosmetic Regulations (new window), there are no regulations around the term clean. 
This leaves companies (and consumers) to create their own definitions. Clean beauty is ambiguous, experts note, defined by equally ambiguous terms such as natural,non-toxic and chemical-free (technically, nothing is chemical-free (new window)).
The claims are expansive, and the term [clean beauty] is tossed around, but really, it's not a science term, said Dr. Shannon Humphrey, a clinical assistant professor in the department of dermatology and skin science at the University of British Columbia and the medical director of Humphrey Cosmetic Dermatology. 
Last year, financial technology company Klarna (new window) surveyed 15,000 U.S. skin-care consumers and found that, among the youngest generations (Gen Z and millennials), the biggest consideration when shopping for beauty products was that they had natural,non-toxic ingredients. Statista (new window) estimates that by 2023, the global market value for natural and organic beauty products will increase to $35.14 billion US.
Meanwhile, conflicting information and misinformation about ingredients are just a Google search away, Humphrey notes.
The waters have really become muddied because certain preservatives and ingredients that have been studied in animals in massive, massive quantities — more than people would ever be exposed to in a lifetime — appear to be harmful, Humphrey said.
"However, the same is not true when tiny amounts are used for safety reasons to preserve stability of products in humans. So it's very difficult for the average consumer to find accurate information on the safety of ingredients in topical products.
Over-the-counter ingredients in Canada are not toxic, Humphrey said.
For instance, there are some studies (new window) that have raised concerns about parabens — chemicals used as preservatives in personal care products. And a 2021 study on polyfluoroalkyl substances (new window) (PFAS) made waves (new window) when it found high levels of fluorine, a key element in PFAS, in half of the cosmetic products it tested from the U.S. and Canada.
But, again, most studies have not made a definitive connection to human health issues despite the fact the clean beauty industry often makes dogmatic statements that there's a clear connection, Caulfield said. There's not.
As Health Canada (new window) notes, health effects have not been observed as a result of exposures to parabens at concentrations found in cosmetics. As for PFAS, Health Canada (new window) prohibits three groups of PFAS that have been well studied because of their risk to the environment (they don't degrade naturally; traces have even been found in Arctic ice cores) and is considering a more extensive ban. Exposure to two types of PFAS — PFOS and PFOA — has been associated with health effects in humans, but these types are prohibited in Canada (new window).
Clean beauty products tend to rely on the belief that a product that comes from nature is better for you, but that's not necessarily true, Caulfield said. 
For example, people can have skin reactions called allergic contact dermatitis (new window) to the ingredients found in natural products, Humphrey notes. Studies (new window) have shown an uptick in skin reactions to essential oils, for example.
Because clean isn't a regulated term, Caulfield notes regulators like the FDA or Health Canada can't require companies to prove their product is clean at all.
That doesn't mean we shouldn't strive to make sure cosmetics products aren't toxic or unsafe for the environment, Caulfield said. And what the clean beauty industry is doing right is pushing for transparency about what exactly is in all our lotions, creams, cleansers and balms.
For instance, another major clean beauty retailer, Beautycounter, has been lobbying the U.S. government for higher safety standards, including requiring more transparency from brands, and called for clear definitions for widely used but underrated terms like 'natural,' according to their 2021 media release (new window).
That said, don't get fooled by the marketing that is really just used to build on those concerns to sell products, Caulfield said.
If you're concerned about the ingredients in your skin-care products, both Caulfied and Humphrey recommend turning to the experts, whether that's Health Canada, the FDA or a dermatologist. 
— Natalie Stechyson