Home
Environment
Major blizzard slamming Greater Toronto Area, with up to 40 cm of snow expected
Extreme cold weather alert in effect in Toronto, with temperatures plunging to –15 with wind chill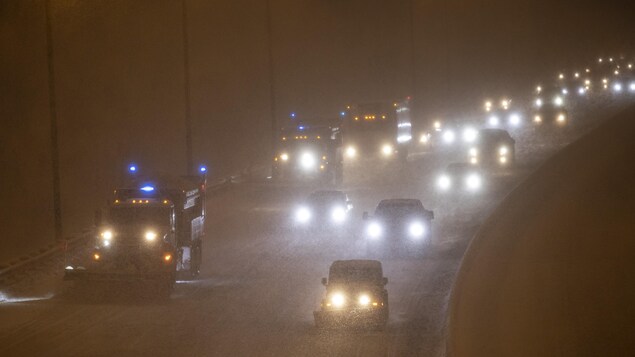 Greater Toronto Area residents are waking up to a dumping of snow and being urged to limit travel as a major blizzard intensifies on Monday morning.
By the end of the day, the city and surrounding areas could get as much as 40 centimetres of snow.
Environment Canada issued a blizzard warning this morning, upgrading from a winter storm warning. The weather agency said the blizzard could cause serious problems in dense urban areas.
It warned of hazardous conditions with heavy snow and strong winds resulting in widespread near-zero visibility.
A CBC Toronto reporter out on the ground reported shortly after 6 a.m. that the snow's falling so fast that as soon as work crews clear it, it starts accumulating again.
Gusting winds of up to 60 km/h combined with hourly snowfall of between four and seven centimetres during the morning could produce treacherous conditions for drivers and other commuters, Environment Canada cautioned.
There may be a significant impact on rush-hour traffic in urban areas, the federal weather agency said, advising people that rapidly accumulating snow will make traffic difficult.
Snow started coming down in the early morning hours, with several centimetres already starting to accumulate in much of Toronto and surrounding areas. 
The storm is due to a low-pressure system tracking south of the Great Lakes, Environment Canada said.
Toronto under extreme cold weather alert
The City of Toronto has also issued an extreme cold weather alert Monday as the storm continues to hammer the GTA.
Environment Canada says Toronto residents can expect a high of –6 C during the day with a wind chill of –15 in the morning and –12 in the afternoon.
The city says it is activating the following warming centres that will be open at 7 p.m.:
129 Peter St.

5800 Yonge St.

Exhibition Place, Better Living Centre, 195 Princes' Blvd.

Scarborough Civic Centre, 150 Borough Dr.

Other parts of Ontario are expected to be hit even harder than the GTA. The heaviest snowfall is forecasted for eastern Ontario and the Niagara Peninsula, as well as parts of Simcoe County. 

Ontarians should consider postponing any non-essential trips until the storm relents, Environment Canada urged. 

"Surfaces such as highways, roads, walkways and parking lots may become difficult to navigate due to accumulating snow. Visibility may be suddenly reduced at times in heavy snow," the agency noted.

Dozens of collisions reported on GTA roads

​Sgt. Kerry Schmidt, spokesperson for the highway safety division of the Ontario Provincial Police, said that snowy road conditions have already led to dozens of collisions throughout the GTA.

"We've been going from call to call with this kind of situation, vehicles spinning out, losing control, either getting caught in the snowbanks, getting caught on the windrows and ending up in the ditch or into the wall," Schmidt told CBC News.

"You can't even see the road markings. It's treacherous with lots of blowing snow out here."

WATCH | A day to stay off the roads, Ontario police officer says:

The OPP are advising anyone who can to stay home.

"Stay off the highways as best you can, until the snow stops falling," he said. "Let the plows do their work to clean the highways, then we'll get back onto the roads."

The TTC is also warning its customers to expect delays on bus and streetcar routes as a result of the road conditions.

Some boards closing schools, cancelling buses

The snowfall has added a wrinkle to the province's already contentious school reopening plan.

Students across the province were supposed to return to school for in-person classes today after two weeks of virtual learning following the winter holidays.

The Toronto District and Toronto Catholic District school boards cancelled the planned return to in-class learning today because of the weather, but will continue to offer the option of remote learning.

Similar announcements have been made by York Region and Dufferin-Peel Catholic district school boards, along with both the public and Catholic boards in Halton, though remote learning is not being offered as an option.

A full list of closures announced so far can be found here (new window).

CBC News with files from The Canadian Press