Home
Health
Health Canada approves Pfizer-BioNTech's COVID-19 vaccine for children
Vaccine approved for use in children ages five to 11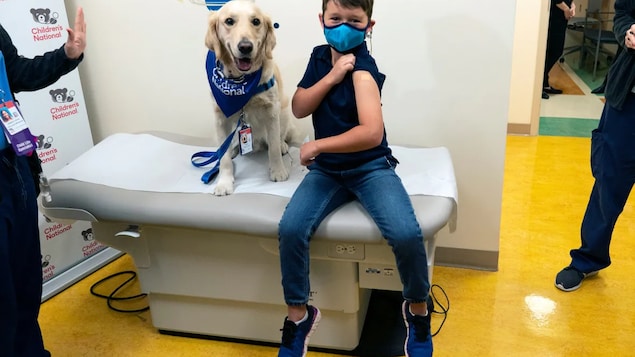 Health Canada has officially approved Pfizer-BioNTech's vaccine for children ages five to 11, heralding it as more than 90 per cent effective against COVID-19.
The federal department posted online this morning, about a month after it received the company's submission.
After a thorough and independent scientific review of the evidence, the department has determined that the benefits of this vaccine for children between five and 11 years of age outweigh the risks, wrote Health Canada in a release.
Pfizer-BioNTech's vaccine is delivered in doses one-third the size of those given to adults and kids 12 and older, and the dosing schedule approved by Health Canada is to give the two doses 21 days apart.
More details, including a delivery plan, are expected this morning during a 10 a.m. ET briefing.
Everyone benefits: doctor
Dr. Michelle Barton-Forbes, an associate professor at Western University's Schulich School of Medicine and Dentistry in London Ont., who specializes in pediatric infectious disease, said this could be a game changer for Canada.
So ultimately, not only will we help to keep kids from acute COVID-19 and its consequences, we will keep kids healthy and we will also keep them happy as they are allowed to do in-class learning and extracurricular activities, she said.
This would also help reduce new adult cases in the community resulting from children with school acquisition who go home and infect their parents and grandparents. It could also help to limit COVID-19-related hospitalizations at a time when other viruses are already driving pediatric hospitalizations and ICU admissions.
Caroline Quach, former chair of NACI and a pediatric infectious diseases expert at the University of Montreal, said while it's normal for parents to question whether or not to vaccinate their children, the trials show the vaccine is effective and less reactogenic, meaning a lower proportion of children aged five to 11 experienced fever, fatigue and myalgia compared to those 16 to 25 years old.
There were enough children in the Pfizer study to know this with confidence, she said.
It is brilliant that we have this vaccine for kids, said Dr. Allison McGeer, infectious diseases specialist and microbiologist at Mount Sinai Hospital in Toronto. 
Although COVID-19 illness isn't usually as serious in children as it is in older adults, she said, it is a non-trivial disease.  It's something most parents will want their children well protected from.
Whatever proportion of kids get vaccinated will create a significant reduction in transmission and just let us all get back to something closer to normal, McGeer said.
The Canadian Paediatric Society also issued a statement saying it welcomes the vaccine's approval. 
As part of its approval, Health Canada is requiring Pfizer-BioNTech to continue providing information to Health Canada on the safety and efficacy of the vaccine in the younger age group.
This will provide the department with more data from ongoing studies and real-world use to ensure that the benefits of the vaccine continue to outweigh any risks, as well as to detect any potential new safety signals in any age group, said the department.
Health Canada and the Public Health Agency of Canada will continue to closely monitor the safety of this vaccine and will take action if any safety concerns are identified.
CBC News