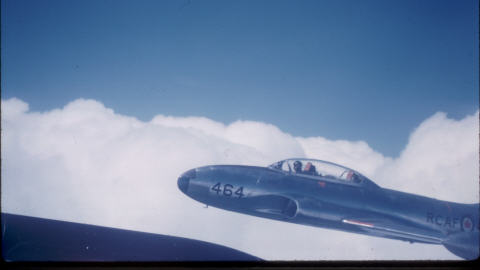 Fifty years ago, I was one of a group of 8 flight cadets from the Netherlands who arrived in Canada to start their flying training in the Royal Canadian Air Force, together with Danish, Norwegian and Canadian cadets.
It started on RCAF station Centralia in the summer of 1959, time and location so well narrated by Ann-Mary MacDonald in her book "The Way the Crow Flies". After language classes and ground school we started primary flying training on Chipmunk aircraft. The ones who successfully completed the syllabus moved on to basic flying training on Harvard aircraft in Moose Jaw, Sask.
Getting there by train in September was an unforgettable experience. The Harvard was heavier and much more difficult to fly. It was easy to get lost during navigation flights over the Saskatchewan prairies—reading the town's name on a grain silo would sometimes help during the day, but no such help during night flying. New and exciting was formation flying and the introduction to dogfights. And Saskatchewan was COLD!
In the spring of 1960 we moved to Gimli, north of Winnipeg, to fly the T-33 jet. The T-33 added the excitement of speed and high altitude flying. I vividly remember climbing out of the T-33 cockpit, soaking wet, totally exhausted, after the first hours of close formation flying in a jet. It's total concentration, often under high G conditions. My longest navigation trip was from Gimli to Montreal, flying back at night, using the primitive navigation aids of 50 years ago. Spectacular was watching the Golden Hawks aerobatic team and the brightly painted 'Red Knight' perfecting their manoeuvres over Gimli. Some remarkable precision flying was shown in a multi aircraft formation, 38 T-33s forming the word RCAF.
After graduation from #3 Advanced Flying School I returned to The Netherlands. I promised myself to one day return to Canada, the country I had fallen in love with. I did in 1982, together with my wife and two children. Flying is still my hobby.
Jan Juurlink, Gravenhurst ON